To create unique photos you do not need an expensive camera at all. What counts above all is creativity! This article was written specifically for people who take pictures with smartphones. Of course, this does not mean that owners of mirrorless and DSLR cameras will not find anything for themselves here. If you are looking for inspiration related to the creative use of light in your product shots or portraits, this text will definitely help you find tools to improve your skillset!

Thanks to smartphones, which have become an integral part of our lives, anyone can try their hand at photography. If you have a passion and dormant layers of creativity, you do not need to buy an expensive camera at all to start this fascinating adventure. A smartphone will be successful in taking your first steps in the world of exposure, composition, and working with images. Before investing in more professional equipment, you can polish your workshop for a long time, using a device that accompanies you every day anyway. Instead of thinking about a DSLR, you can focus on… experimenting with light. There are many tools and working techniques that will help you stand out from the crowd. We hope you find something here that will help you create even more interesting photos!
From this article you will learn: 
how to easily take product photos with a smartphone;
what lighting to choose when shooting with a smartphone;
what tools help you light portraits better;
how to light makeup well;
how to create an effective light painting;
how to create unique backgrounds using light;
how to create special effects with light.
Light in mobile photography
It doesn't matter whether you are shooting with a smartphone or a DSLR camera for several thousand zlotys. The principles of working with light are exactly the same! Everything you learn while working with a smartphone is sure to come in handy in the next stages of development when a camera is in your hands. Or maybe your phone's limited capabilities will inspire you to go against the grain and bet only on mobile photography? Whichever path you choose, here are some tools to help you play with light.
Product photography with a smartphone
Let's start with people who want to take photos for slightly more pragmatic reasons. Fledgling online sales businesses can't always afford professional product photos. Often, the idea of taking care of the photography yourself comes up. It turns out that all you need is a smartphone and good lighting to achieve satisfactory results.
Smartphone shadowless tent
Modern smartphones automatically choose the right camera settings. If you combine this with optimal lighting that you don't have to set yourself, you get a ready recipe for successful product photography. Such conditions will be provided by a shadowless tent. This is a mobile photographic studio that you will set up in a few moments. With its help, you will take attractive photographs for auctions, online stores, and even catalogs. In the set of Newell shadowless tents, you will also find colorful backgrounds. They allow you to creatively arrange your composition, depending on the specifics of the products you are photographing. The tents are equipped with special LED panels, which provide excellent illumination, which you no longer need to actually modify in any way.
Even lighting of the face
If you use your smartphone to photograph makeup or hairstyles, it's worth taking care of the right power, color temperature, and softness of light to bring out the best in models' faces. Ring lights come to the rescue. They are not only invaluable support in portrait photography but also in product and macro photography. The Newell RL-18A – WB model will be perfect for working with smartphones. This is because the device offers special mounts that allow you to quickly and conveniently install the phone in the center of the circle. Ring lights are the ideal way to evenly illuminate the face, without having to wade through dozens of photographic manuals. Thanks to their distinctive design, they ensure even distribution of light, both on the faces of models and models and the subjects being photographed. Ergonomic adjustment of power and color temperature will allow you to precisely adjust the parameters of the lamp to suit your current needs.
Soft light plays a key role in beauty photography. It will avoid harsh shadows, and allow you to smooth out facial imperfections. Round lamps with built-in diffusers come to the rescue. Models such as the Newell Air Artha and Air Artha XL will allow you to get a pleasant soft light, without the need for additional accessories. The ability to adjust the color temperature will be an added advantage here and will make it easier to adjust the shades to the conditions found.
Playing with color light
Adjusting the color temperature allows for a lot of experimentation with light, but what can really change the game is playing with colors. And here's the good news! Even the smallest LED lamps will allow you to create amazing lighting effects using colors. A great choice to start with, for smartphone photographers, would be the Newell Rangha Nano RGB-W. This model will fit in any photographer's bag or vlogger's backpack. With a maximum output of 300 lumens, the lamp can be used for macro photography, product photography, or street photography. You can choose from 12 RGB colors and a ready-made set of special effects. A cold shoe will allow you to easily install the lamp on rail mounts known from cameras, and 3 mounting points will allow you to connect additional devices and accessories. Importantly, the lamp is powered by popular AA batteries. A small lamp is a must-have item in your photographic essentials, especially one that will allow you to add a "wow effect" to your photos with color.
Playing with small effect light sources can quickly whet your appetite for more daring color experiments. The Rangha series includes 4 different lamp models that will enable you to do just that. The devices will help illuminate frames, add multicolored effects or highlight key emotions. They're also a great choice wherever you're shooting on a macro scale. Product photography, LEGO bricks, dioramas, models, insects, plants – anywhere Rangha and Rangha Max or will work perfectly!

Light painting
Or maybe you fancy a bit more advanced experiments with light? If your smartphone offers the ability to set a longer exposure time, try your hand at light painting. This is a unique photo-taking technique where light becomes your painting brush. If you want to create a "light pen," it's best to go for a wireless light source. Just a small LED light is enough to get creative and create unique photos with colorful captions, irregular streaks, or symmetrical circles. The Newell Kathi RGB lightsaber will also be a great choice. This unique design with an ergonomic handle will provide even more control over the light, allowing for more precise "painting".
Create backgrounds with light
Light can also be used to create a unique background! It can complement your scenery or provide a unique atmosphere for your photos on its own. You can bet on lamps that offer color change, reach for special gates that allow you to work with gel filters (such as Newell Barn Doors BD-200) or… create a unique sunset effect. You will achieve it with the Newell RGB-W Rangha Nano Sunset LED lamp. A special lens will allow you to create amazing circles of light with colored borders. They will become a decoration for your photos, videos or vlogs. Viewers and observers will surely wonder more than once how you managed to achieve this unique effect!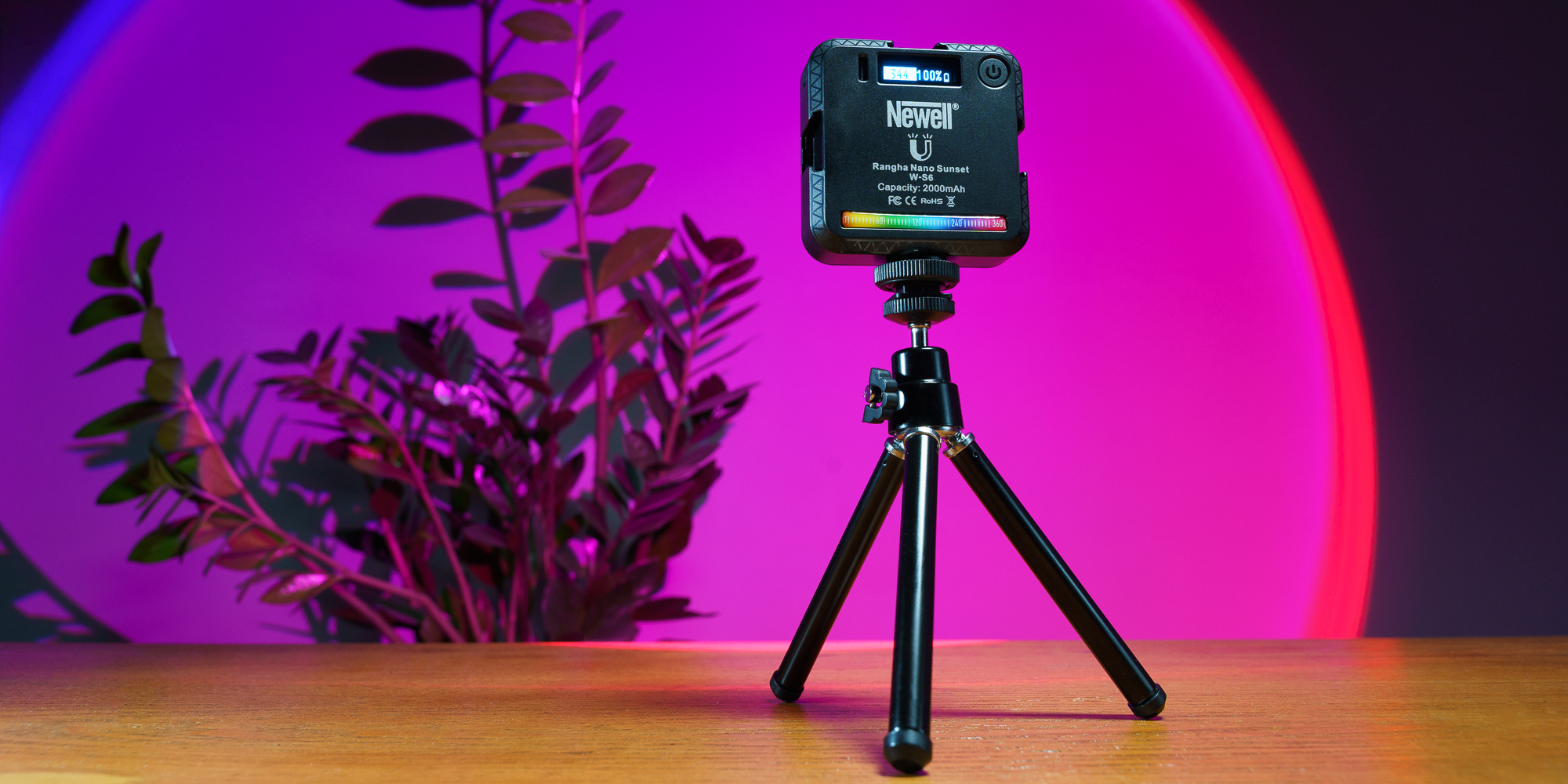 Special effects not only in Hollywood
Finally, one more interesting fact. To achieve Hollywood special effects, you don't have to spend millions! All you need is a smartphone and a flash that offers unique predefined modes. Pre-programmed combinations of flashes, highlights, and dims, as well as smooth color transitions, will allow you to achieve spectacular effects imitating, among others, a bonfire, a candle glow, a broken light bulb, a police car, an ambulance, a fireworks show, disco lights and much more! Such solutions are offered by the compact Newell Rangha Nano, the Newell Kathi RGB lightsaber, and the slightly more expensive Newell RGB Pravaha, among others. Sure, they were created primarily with video productions in mind, but you'll also use them in photography! Taking a series of photos in which the light changes according to a preset program is a better chance of capturing a unique moment.
Be sure to share with us the results of your creative experiments with light in mobile photography! And for more inspiration, visit our Facebook and Instagram.