Description
The Newell pure sine wave voltage inverter – 24 volts / 230 volts, 1000 watts is a high-tech inverter that provides reliable power for devices requiring 230 volts AC. It is an excellent choice for RV owners and truck drivers. With the Newell inverter, you can use 2 electrical outlets and a USB port wherever access to electricity is limited, and its only source is a 24 V battery. Safety of operation is ensured by adequate protection – against overvoltage, short circuit, overheating and overcharging, as well as CE and RoHS certifications. The device has a smart cooling system, a backlit screen and a compact, durable housing. You will also find battery cables with eyelet terminals.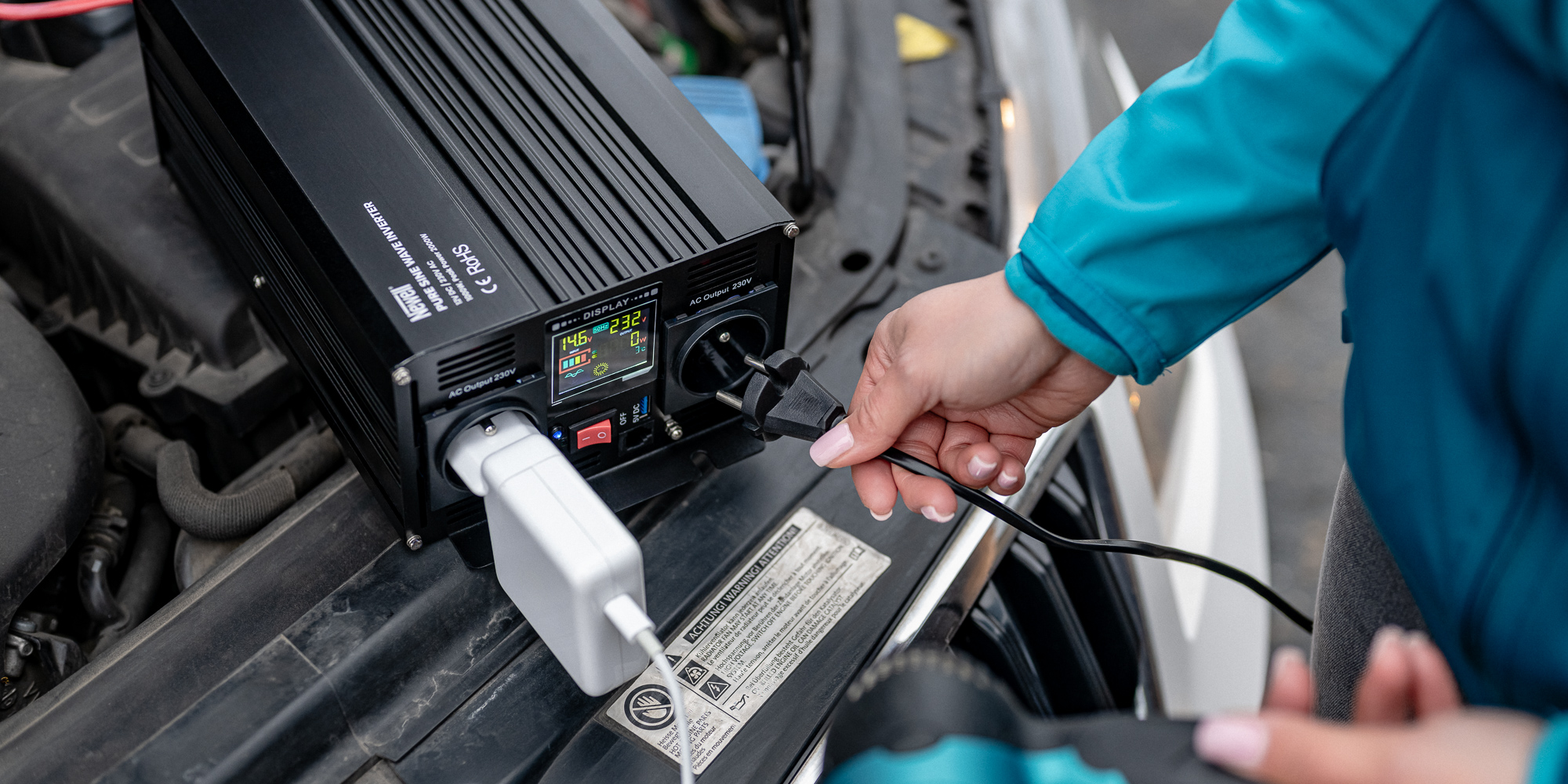 Main Product Features
universal inverter (inverter / inverter) with pure sine wave, with usable power of 1000 watts and instantaneous power of 2000 watts
pure sine wave is the best solution for use with inductive appliances (e.g. CO pump motors, refrigerators with genset), desktop computers, servers, medical devices, audio/video systems, amplifiers, speakers, DVD/Blu-ray players, game consoles and large TVs
you can also easily connect less demanding devices to the inverter, including: a heater, laptop power supply, mobile device charger and many other devices
allows you to power devices that require 230V AC voltage from car batteries
converts DC voltage from a 24-volt battery to ~230W AC
ideal choice for people who frequently travel in an RV or truck
enables you to use an electrical outlet where the battery is the only power source
equipped with 2 electrical outlets (E standard) and 1 USB-A port
USB-A port allows convenient charging of popular electronic gadgets (smartphones, tablets, e-book readers, headphones, etc.)
equipped with a number of safety features to ensure protection of devices and trouble-free operation
protection against overvoltage, short circuit, overheating and overcharging
safety guaranteed by CE and RoHS certifications
intelligent cooling system that adjusts fan operation according to device temperature
illuminated screen informing about power parameters and correct operation
included battery cables with eyelet terminals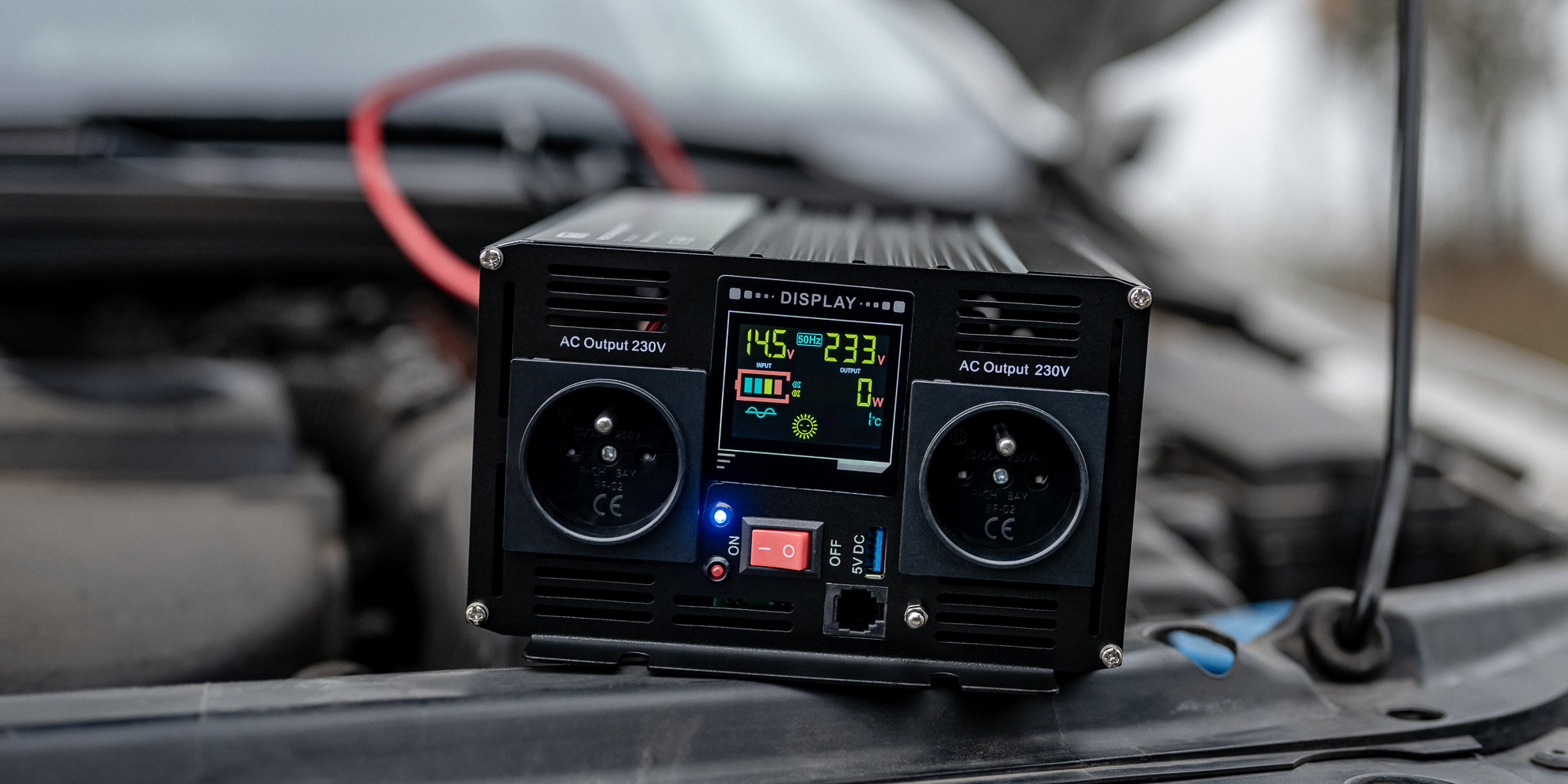 Gain independence!
The Newell voltage inverter with pure sine wave – 24 V / 230 V, 1000 W, which is often also called an inverter or inverter, is a small device that allows you to convert the direct current from a 24 V battery into the alternating current we use at home electrical outlets. It will give you even more independence when traveling in an RV, on long car trips or camping.
Campers and trucks
The Newell voltage converter with pure sine wave – 24 V / 230 V, 1000 W is an excellent choice for truck and camper owners. Unlike passenger cars, where 12-volt batteries are usually used, large vehicles require twice the voltage. A 24-volt inverter will therefore be the best choice for drivers who travel with their "homes on wheels" or work in the transportation industry.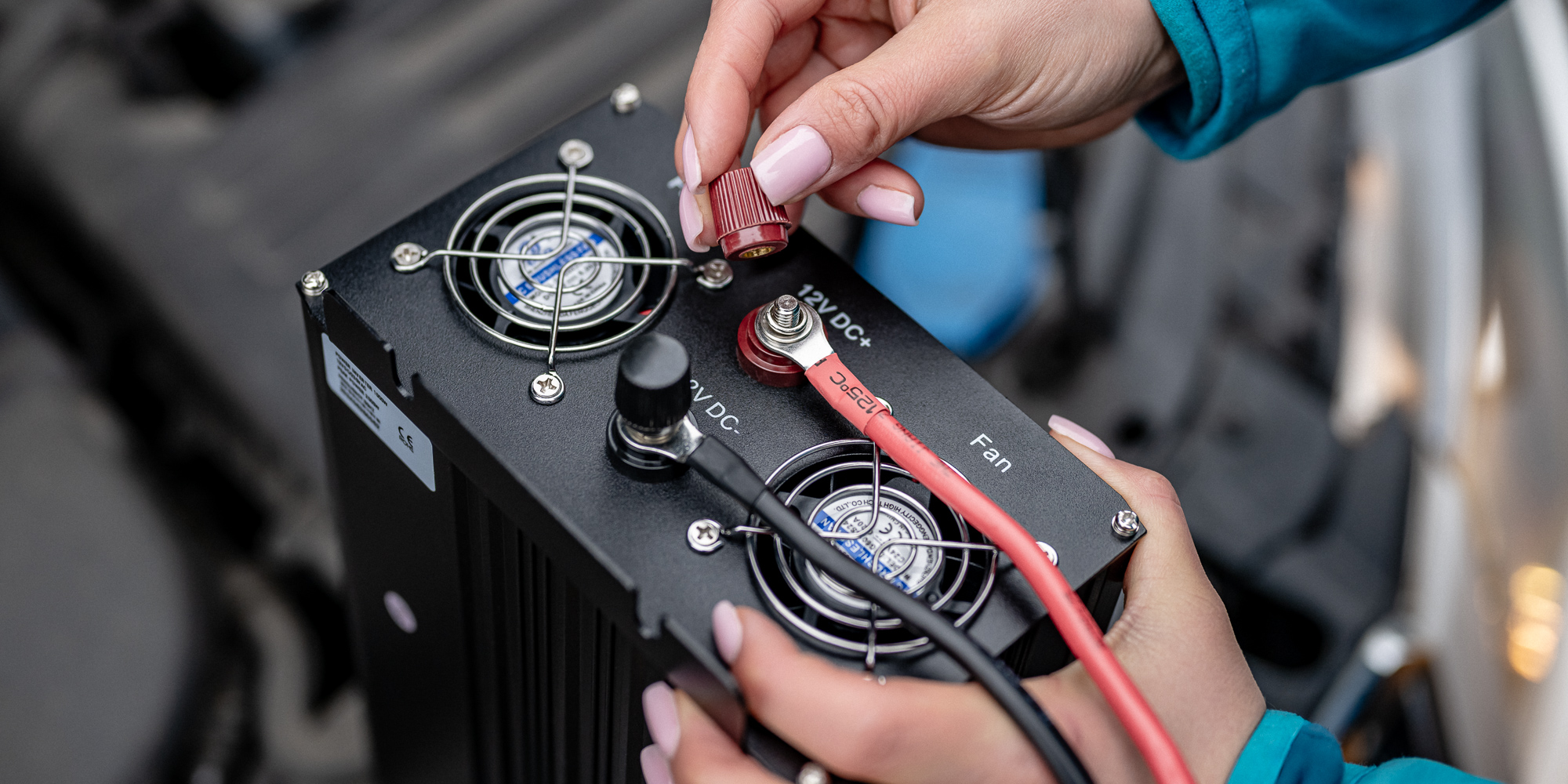 Learn the power of pure sine wave
Pure sine wave inverters are reliable and technologically advanced devices that generate a voltage with almost the same waveform as in the home 230-volt network. When you choose a 24 V / 230 V, 1000 W model, you are assured that your electronic equipment will operate in full working order and safety. This is especially important if you use devices that require precise power supply. With pure sine wave, you avoid the risk of damage caused by an inadequate voltage waveform, which can lead to failure and shorten the life of your equipment. Pure sine wave inverters are also highly efficient and energy-saving. Their advanced electronics minimize energy loss, ensuring efficient energy conversion. In the case of this model, operating efficiency is as high as 94% at 100% load.
Pure sine VS. modified sine
If you are looking for a reliable power source for your devices, Newell's pure sine wave voltage inverter is an ideal choice. Unlike inverters with a modified sine wave, this equipment generates a voltage with an almost identical waveform to that of the 230-volt home network. This gives you the assurance that your appliances, especially demanding ones such as CO pumps, chiller refrigerators, air conditioners or Hi-Fi equipment, will run fully operational and as expected. The right power supply affects the longer life of electronics and ensures stable operation of induction motors. No matter what kind of devices you want to power, Newell's pure sine wave inverter ensures optimal working conditions.
If you plan to use less demanding devices get acquainted with Newell voltage inverters with modified sine wave. Please remember that the usable power of the inverter should be properly matched to the devices you plan to connect to it.
1000 watts of usable power
The Newell pure sine wave voltage inverter – 24 V / 230 V, 1000 W offers a maximum of 1000 watts of usable power and is compatible with 24 V batteries. Whether you need power in your car, RV or boat, the Newell voltage inverter with pure sine wave will provide reliable power for your equipment. Before purchasing the inverter model of your choice, make sure that its parameters will suit your needs.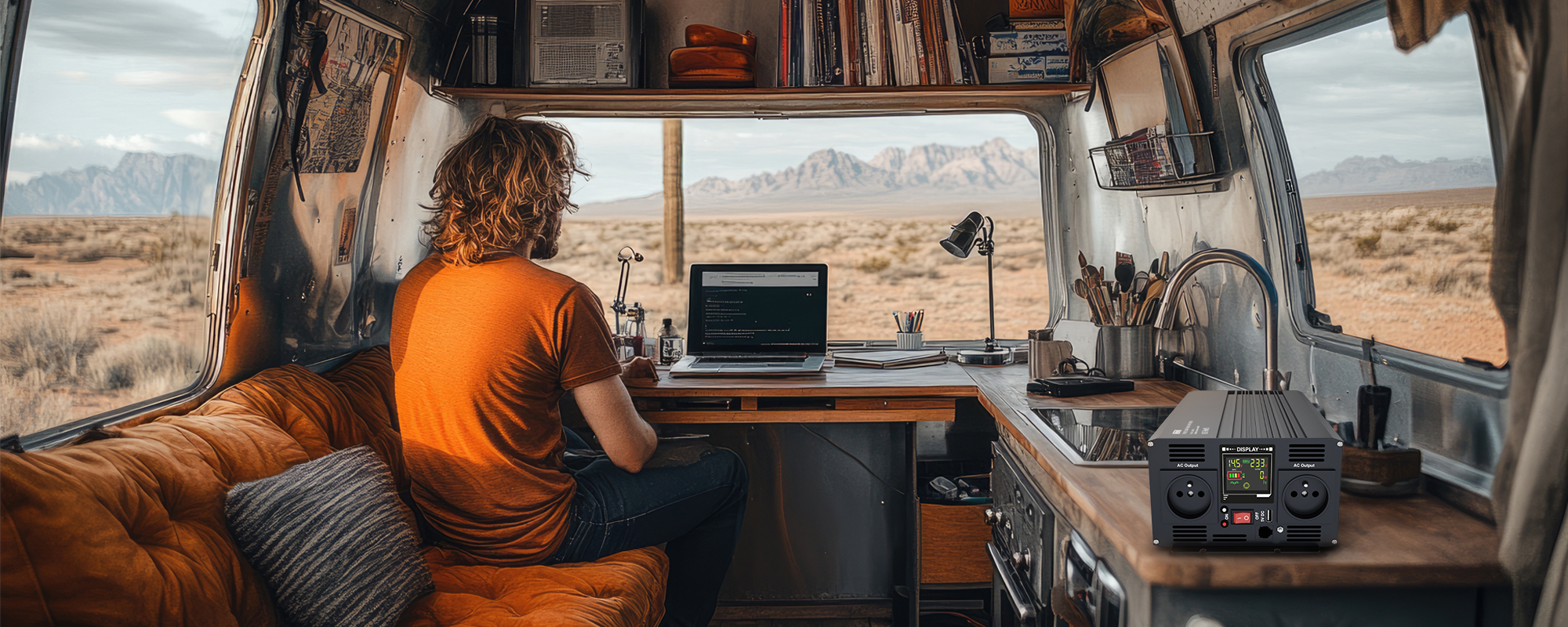 Power under control
The backlit screen with easy-to-read indicators will allow you to quickly and conveniently check important information about voltage, output socket, current frequency, output load and battery level. Icons corresponding to various messages, such as overload, over-voltage, over-temperature or under-voltage, will make it easy to diagnose any complications.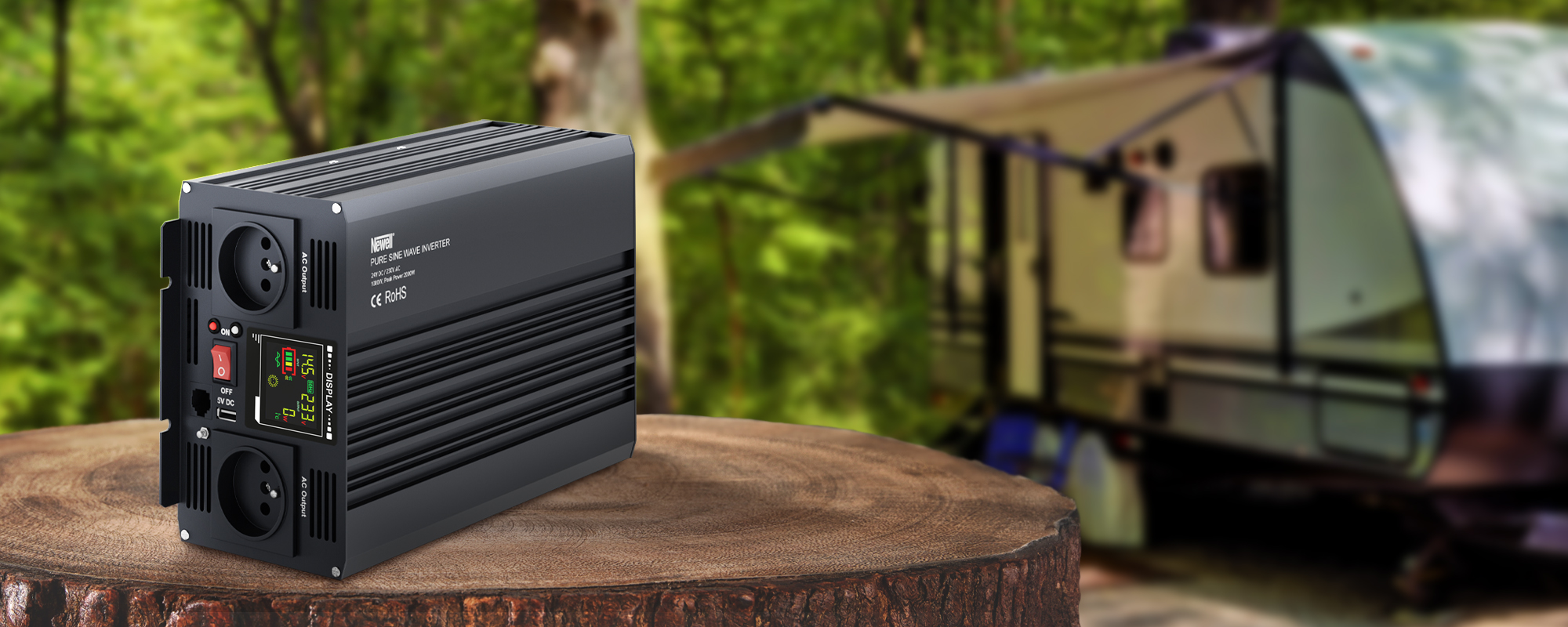 Protection and safety
The Newell voltage inverter with pure sine wave – 24 V / 230 V, 1000 W uses a state-of-the-art protection system, responsible for protecting the device and the electronic equipment connected to it. It regulates the power supply process, while ensuring optimal operating parameters. This is a guarantee of reliability and durability, as well as adequate protection against overvoltage, short circuit, overheating and overcharging.
Ideal travel companion
Access to electrical outlets while traveling can sometimes be problematic. Many devices cannot be plugged into a power bank or car lighter socket. Then the Newell voltage converter with pure sine wave – 24 V / 230 V, 1000 W comes to the rescue. You do not need to buy new electronic devices to use them on the go. The inverter will make equipment previously compatible only with traditional electrical outlets can be connected to the battery.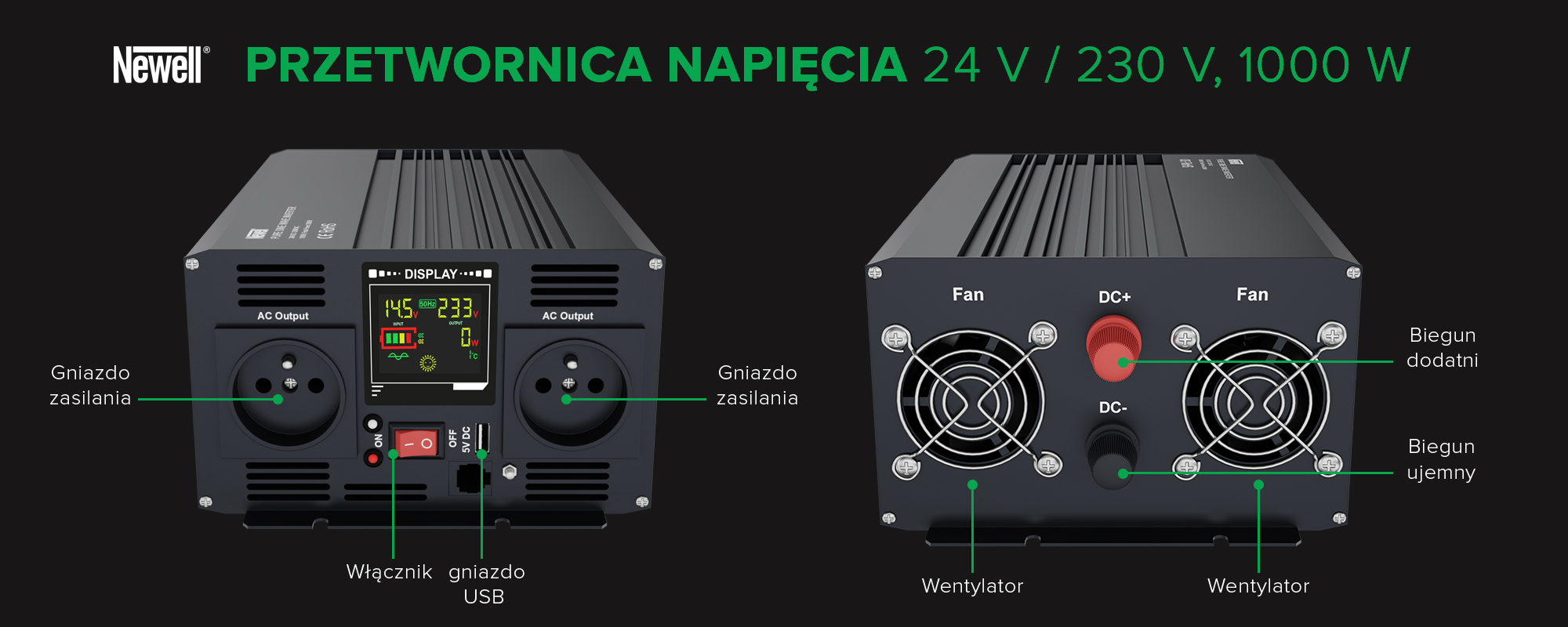 Appropriate operating temperature
For the highest comfort and optimum safety, the Newell inverter is equipped with an automatic cooling system. The fans adjust themselves to the temperature of the device, taking care of optimal working conditions. Such a solution ensures adequate protection of the equipment, but also very quiet operation.
Cables with eyes included
The set of Newell pure sine wave voltage inverter – 24 V / 230 V, 1000 W was not lacking a suitable set of cables. They used eyelet terminals. The cables will allow you to seamlessly connect the inverter to the 24 V battery in the most efficient way. The eyelet ends of the cables guarantee a secure and durable connection, eliminating the risk of accidental disconnection during charging. As a result, your battery-powered devices will run smoothly and reliably, allowing you to focus on your tasks without worrying about power interruptions.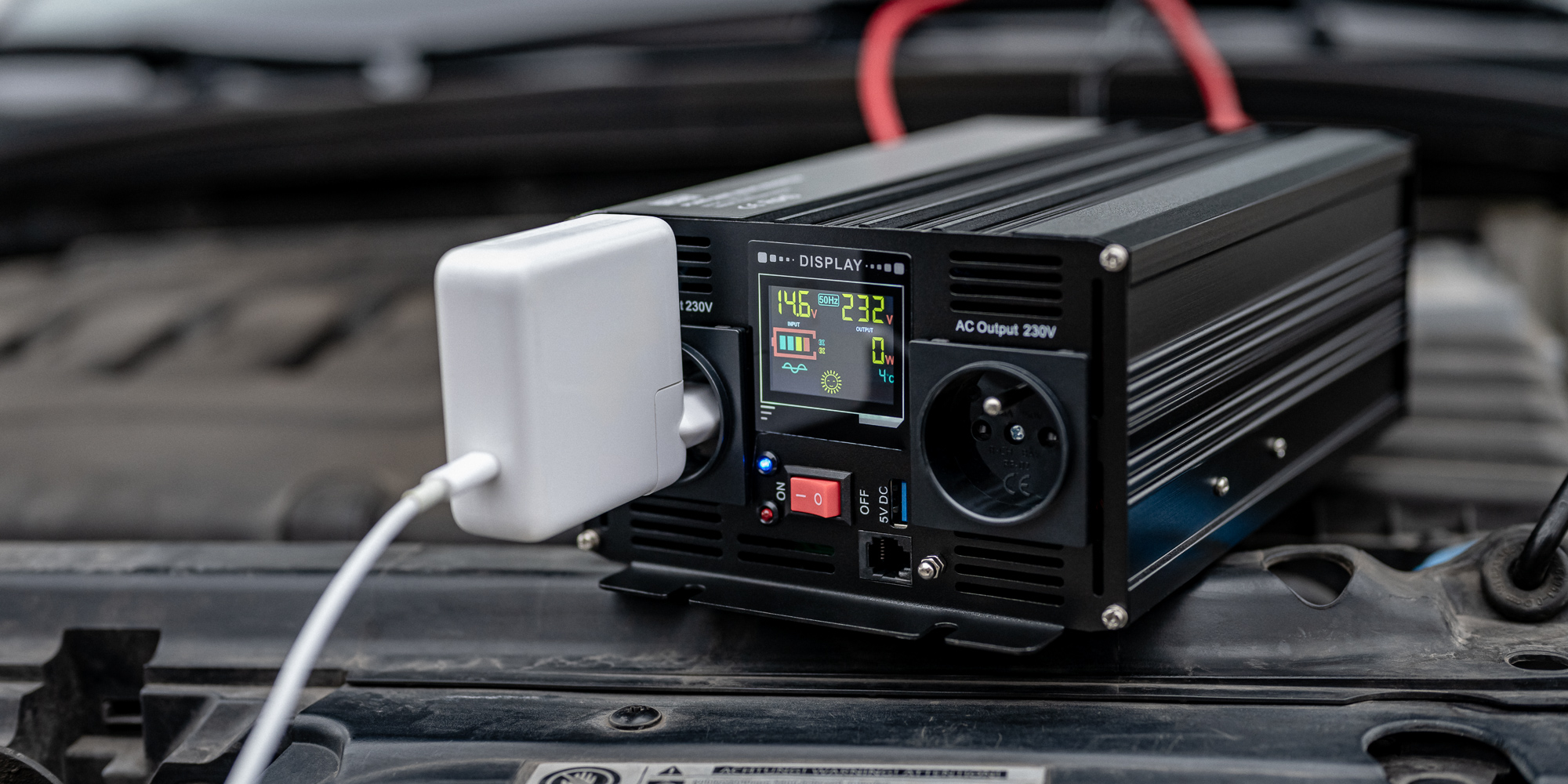 Specification
model: Newell voltage inverter with pure sine wave – 24 V / 230 V, 1000 W
output voltage: 230 V ± 5%
usable power (constant): 1000 W
instantaneous power (pulsed): 2000 W
operating efficiency: 94% (at 100% load)
nominal input voltage: 24 V DC
USB port: 5 V / 2 A
output frequency: 50 / 60 Hz
wave shape: pure sine wave
cooling: cooling fans
operating temperature range: -10ºC – 50ºC
dimensions (L x W x H): 29 x 17 x 9.5 cm
weight: 2800 g
Set contents
Newell voltage inverter with pure sine wave – 24 V / 230 V, 1000 W
battery cables with eyelets