Description
Main product features
professional lighting kit for product photography

ideal choice for those photographing products for catalogs and online stores
includes 2 Newell Sparkle LED lights, 2 power supplies, 2 tripods, 2 softboxes with covers, and a carrying bag
the proven way to successful packshots without shadows
the best alternative to kits that use studio bulbs
with LED lights you don't risk damaging or burning out bulbs
adjustable color temperature from 3200 K to 5600 K
lamps provide natural light color reproduction
maximum luminous flux of each lamp is 1650 lux
lamps compatible with batteries including NP-F570, NP-F750, NP-F770, NP-F950, NP-F970
each lamp is equipped with a backlit screen for convenient control of light parameters
fast and convenient tripod unfolding and softbox installation system
adjustable height of tripods from 80 to 190 cm
stands equipped with 1/4 "male thread
softboxes measuring 50 x 70 cm
silver interior of softboxes providing very good reflection and minimizing light loss
high quality diffusion fabric for optimal light softening
zippered bag for convenient transportation of the kit
Professional product photography
Want to take photos of the products you sell in your online store yourself? Do you collect items that need to be immortalized in the form of professional photographs? Or maybe you want to get rid of shadows from your photos? The ready-made Newell Sparkle LED lighting kit for product photography is all you need. Universal lights with tripods and softboxes will also successfully work when taking portraits or recording vlogs. If you don't want to overpay and get all the necessary tools with one purchase, choose a lighting kit with Newell Sparkle LED lights.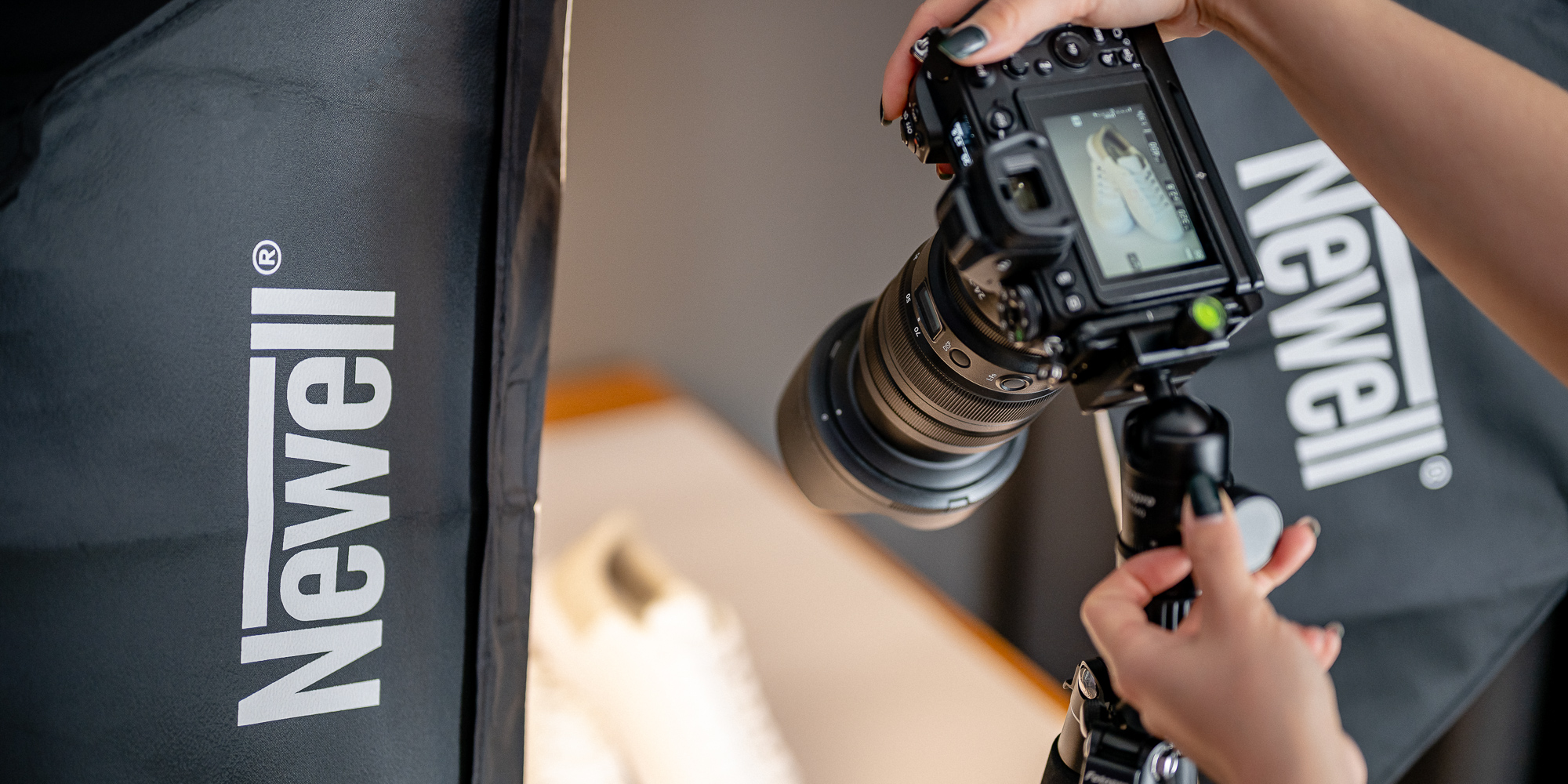 Forget about traditional studio bulbs!
If you're looking for a lighting kit that will allow you to create professional product photos, you no longer have to limit yourself to the most affordable photo bulbs. Newell Sparkle lights will be a much better alternative. Thanks to LED technology, you won't have to worry about the light source burning out while taking photos. Their design will also be a big advantage during transportation. LED lights, after all, can't be broken!
Adjustable color temperature
The Newell Sparkle LED lights offer adjustable color temperature from 3200 K to 5600 K. So you can independently create the atmosphere that accompanies your photos – from neutral light to light that corresponds to the light the sun emits during the day. This is another argument for abandoning photo bulbs, in favor of LED lighting.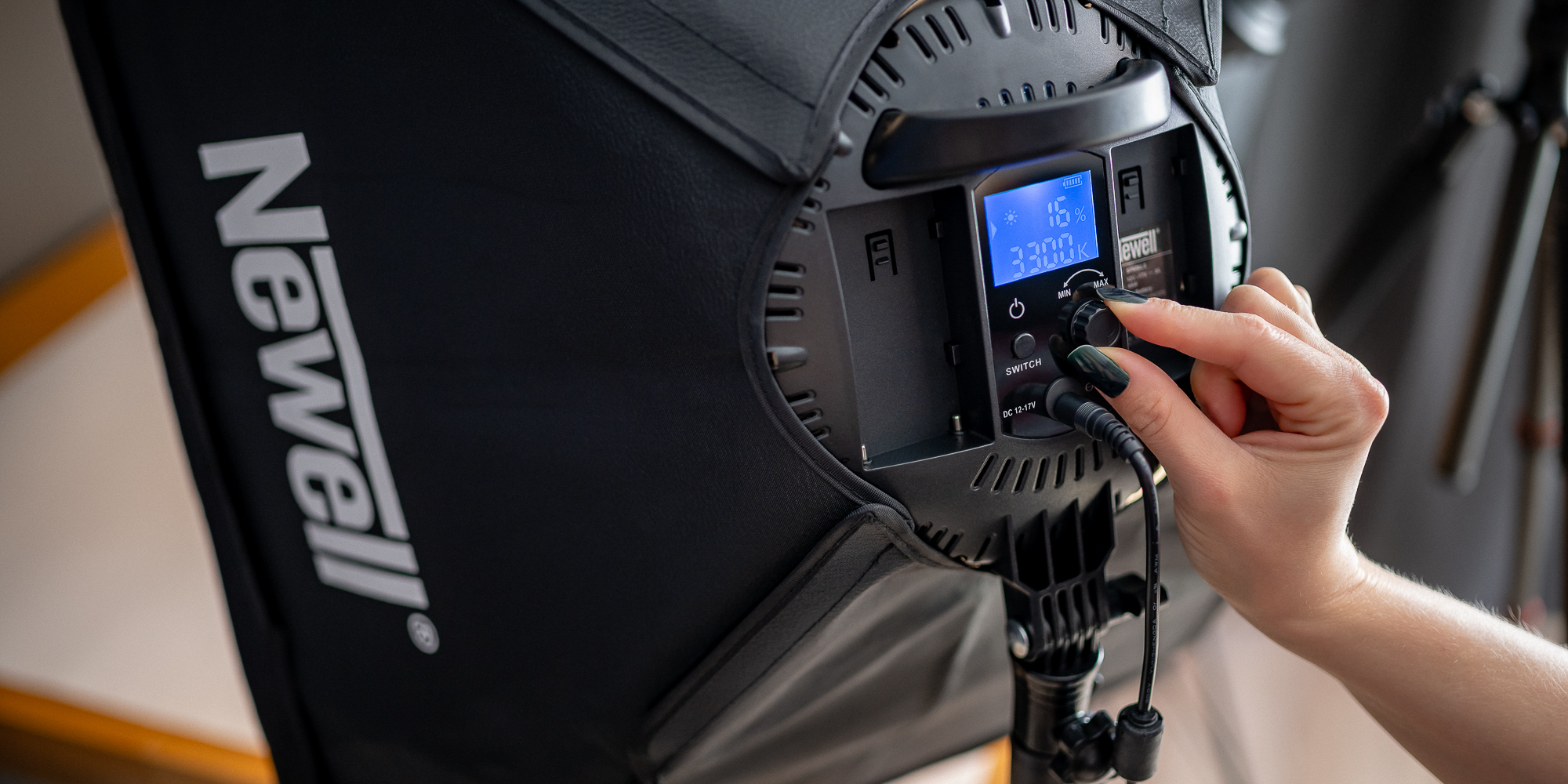 Convenient mounting
The Newell Sparkle LED Light Kit for Product Photography is an ideal choice for those who travel frequently or don't have the space to create a permanent workspace. You need just a few minutes to set up the tripods, install the softboxes on the mounting rods and set the LED panels in the proper positions. Precise targeting of the light will be ensured by the movable heads that the lamps are equipped with. The clamps that the tripods are equipped with will allow you to conveniently fit the set to various shadowless tables, desks or rotating platforms.
Two ways to power the lamps
With two different ways to power the lamps, the Newell Sparkle lamps will work well both at home and when filming or photographing trips to locations where access to an electrical outlet is difficult. Each LED panel is equipped with two battery slots. Supported cell models include: NP-F570, NP-F750, NP-F770, NP-F950 and NP-F970. Wireless power supply means even more freedom to work! And if you're shooting in a studio, take advantage of the included power supplies. Combined with the power cables, each will allow you to be 2 meters away from the outlet in a straight line.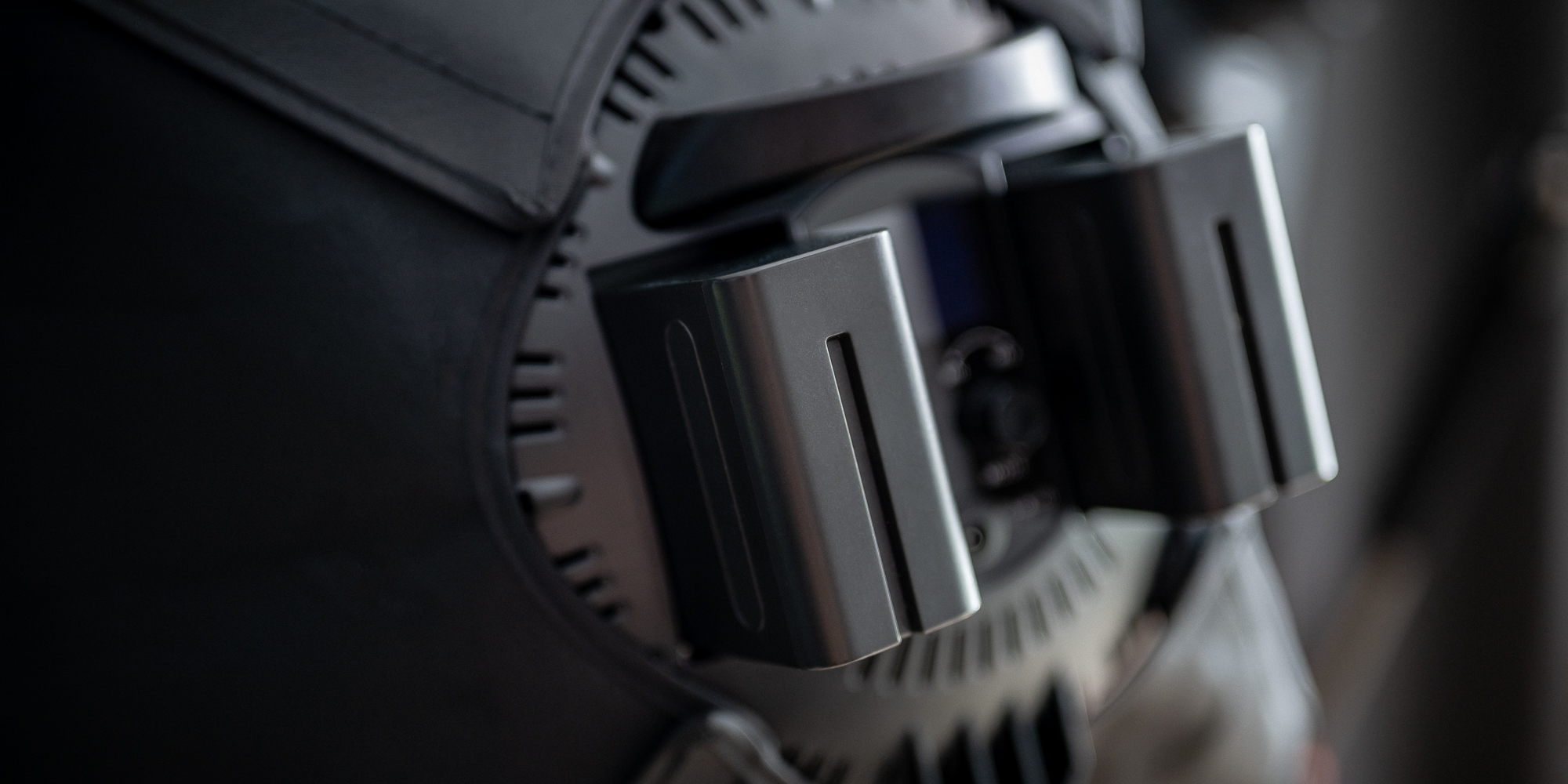 Convenient transport
The included zippered bag provides secure storage and convenient transportation of all kit components. You can quickly carry it from place to place with the help of 2 handles. The manufacturer has also provided separate covers in which you will store the softboxes, the rods used to mount them and the diffusion fabrics.
40-month warranty
If you are looking for equipment that will serve you for years to come, bet on quality and experience. Newell is a brand that has been on the market since 2009, specializing in the production of equipment and accessories used in the film and photography industry. Each product comes with a 40-month warranty. When you choose the Newell Sparkle LED light kit for product photography, you are assured of proper support in case of any problems related to its operation!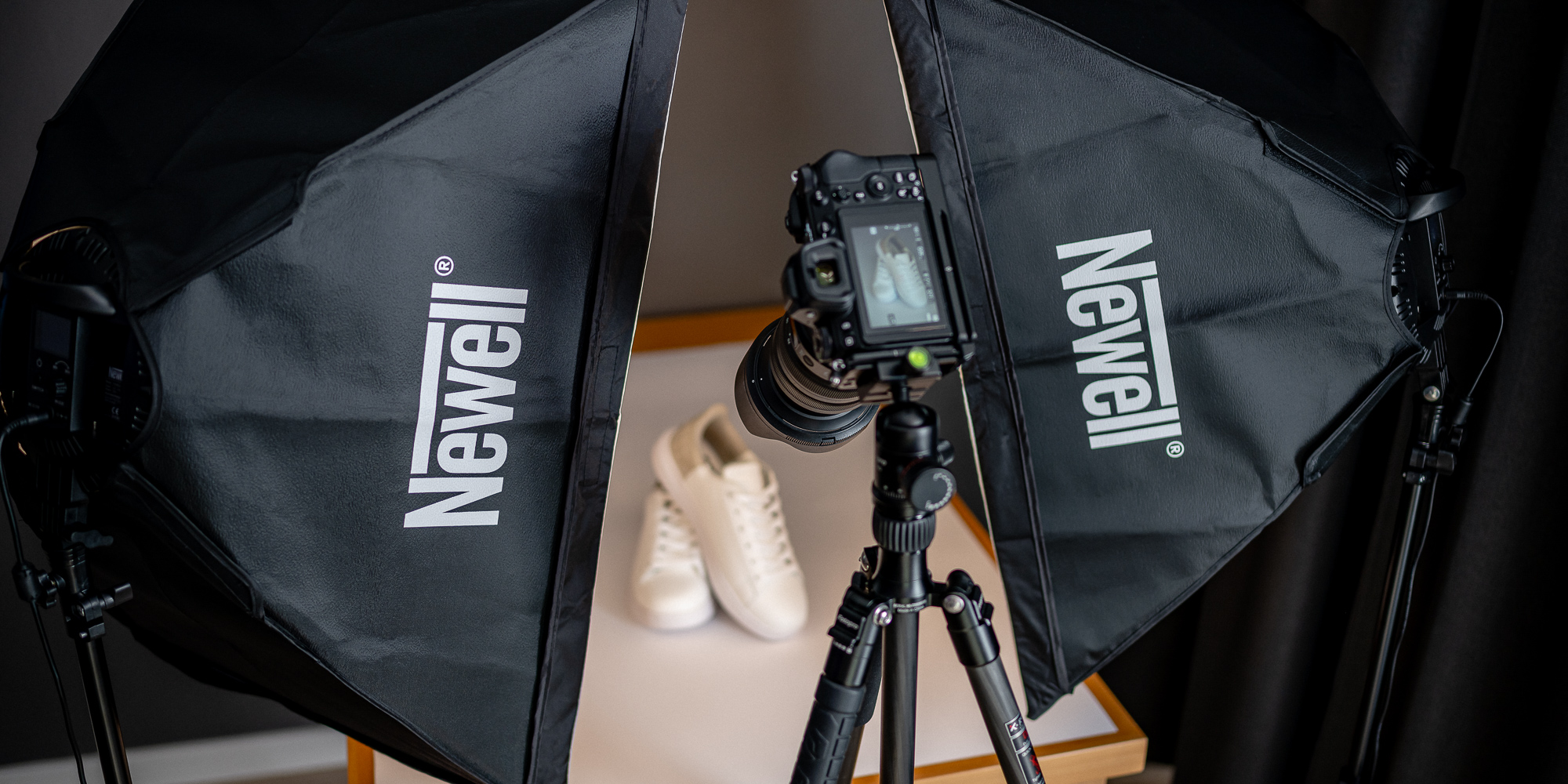 Specification
Model: Newell Sparkle LED lighting kit for product photography
Newell Sparkle LED lamp:

number of lamps in the set: 2
CRI: 92+
color temperature: 3200 K – 5600 K
brightness: 1 – 100%
max luminous flux: 1650 lx
max power: 48 W
input: 12 V – 17 V, 3 A
power supply: power supply / rechargeable batteries
compatible batteries: NP-F750, NP-F770, NP-F950, NP-F970
dimensions: 19 x 26 cm
weight: 460 g

Stand:

number of tripods included: 2
color: black
material of construction: aluminum
mounting: 1/4″
male tripod thread
number of sections: 3
minimum height: 80 cm
maximum height: 190 cm
length when folded: 67 cm
section diameter: 22 / 19 / 16 mm
weight: 597 g

Softbox:

number of softboxes included: 2
dimensions (when unfolded): 50 x 70 cm

Transport bag:

dimensions: 67 x 21 x 16 cm
Set contents
2 x Newell Sparkle LED lamp
2 x power cable (92 cm)
2 x power adapter (with 115 cm cable)
2 x softbox 50 x 70 cm
2 x diffusion fabric
2 x set of mounting rods
2 x softbox cover
transport bag
2 x tripod
2 x tripod thread protector cap