Description
The Newell RGB-W Rangha Max LED lamp is an improved version of the Rangha compact panel appreciated by photographers and filmmakers. The small and lightweight device offers a maximum luminous flux of 1200 lumens, adjustable color temperature in the range of 2500 K – 9900 K, and HSI color palette with adjustable saturation. You can use it to illuminate the film set, product photography, street or macro photography. The flash will also be perfect for working on videos or animations. Ergonomic knobs and buttons allow you to quickly switch between different settings, and a small backlit screen makes your work even easier. The manufacturer did not forget about the 21 special effects, such as strobe, police car lights, candle flame or fireworks.
Main Product Features
A compact LED lamp that is ideal for the world of film and photography
Maximum light output of 1200 lumens
360 colors available within the HSI palette
Possible to set the light output within the range of 1% to 100%
Adjustable color saturation from 1% to 100%
Convenient operation with ergonomic knobs and buttons located on the side edge of the device
21 pre-set special effects divided into 7 groups
The use of these effects is ensured by 2 buttons
Convenient lamp charging from the USB-C port
Convenient lamp charging from the USB-C port
3 mounting threads allowing you to mount additional accessories
Small dimensions, large possibilities
Newell RGB-W Rangha Max is an LED lamp with a maximum light output of 1650 lumens. The device is a "must have" for every photographer, filmmaker, vlogger or influencer who publishes videos on YouTube or TikTok. A small lamp will help many times to illuminate frames, add color effects or highlight key emotions. It's also a great choice wherever you're filming or photographing on a macro scale. Product photography, LEGO bricks, dioramas, models, insects, plants – everywhere Rangha Max will be perfect!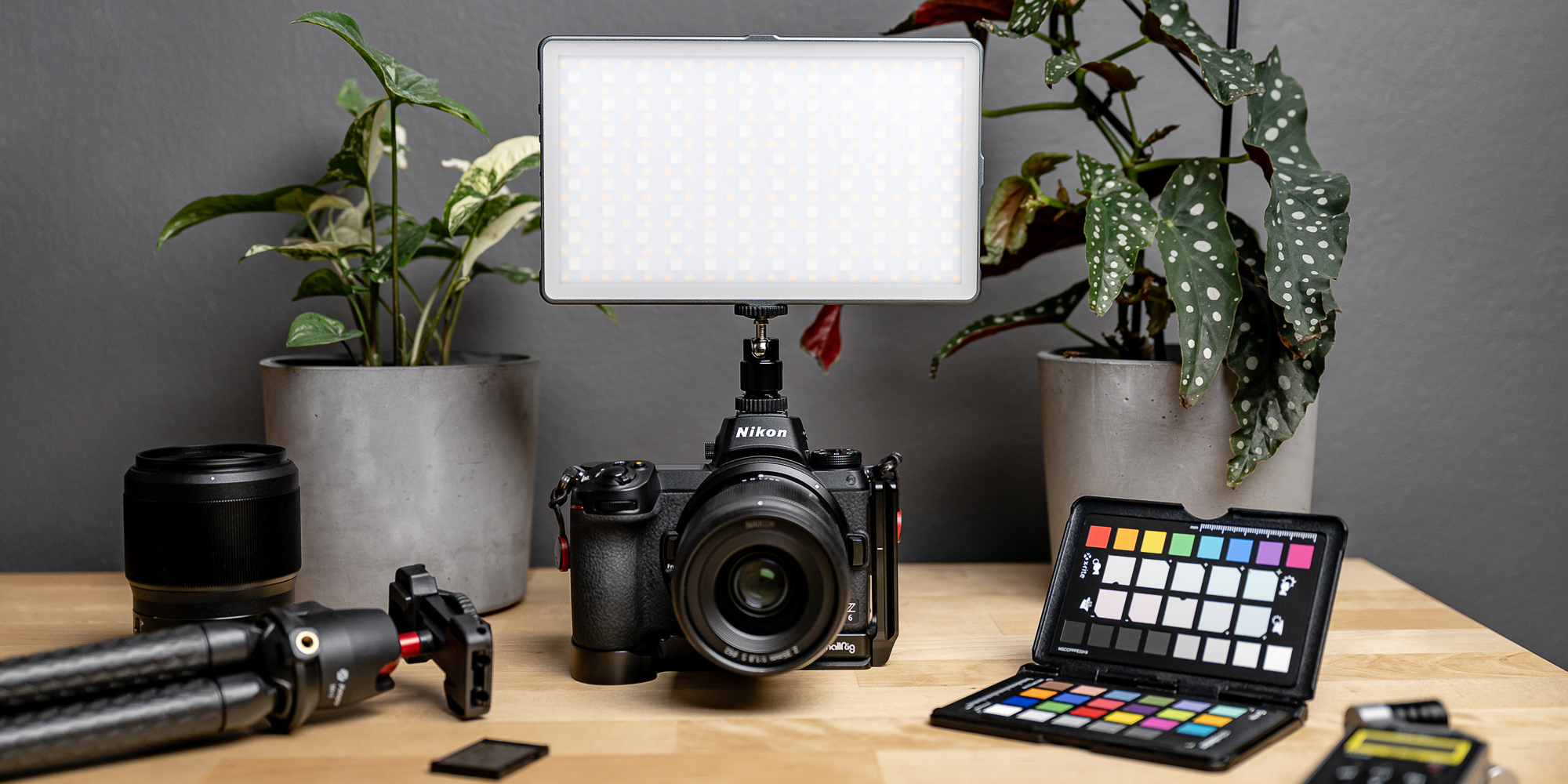 Adjust power and color temperature
Newell RGB-W Rangha Max offers many of the conveniences familiar from larger lamp models. Ergonomic knobs and buttons will allow you to conveniently set the brightness of light, according to your current needs. The manufacturer also did not forget about the color temperature adjustment (from 2500 K – 9900 K), which you can quickly adjust to the conditions or specific needs of your frames and shots.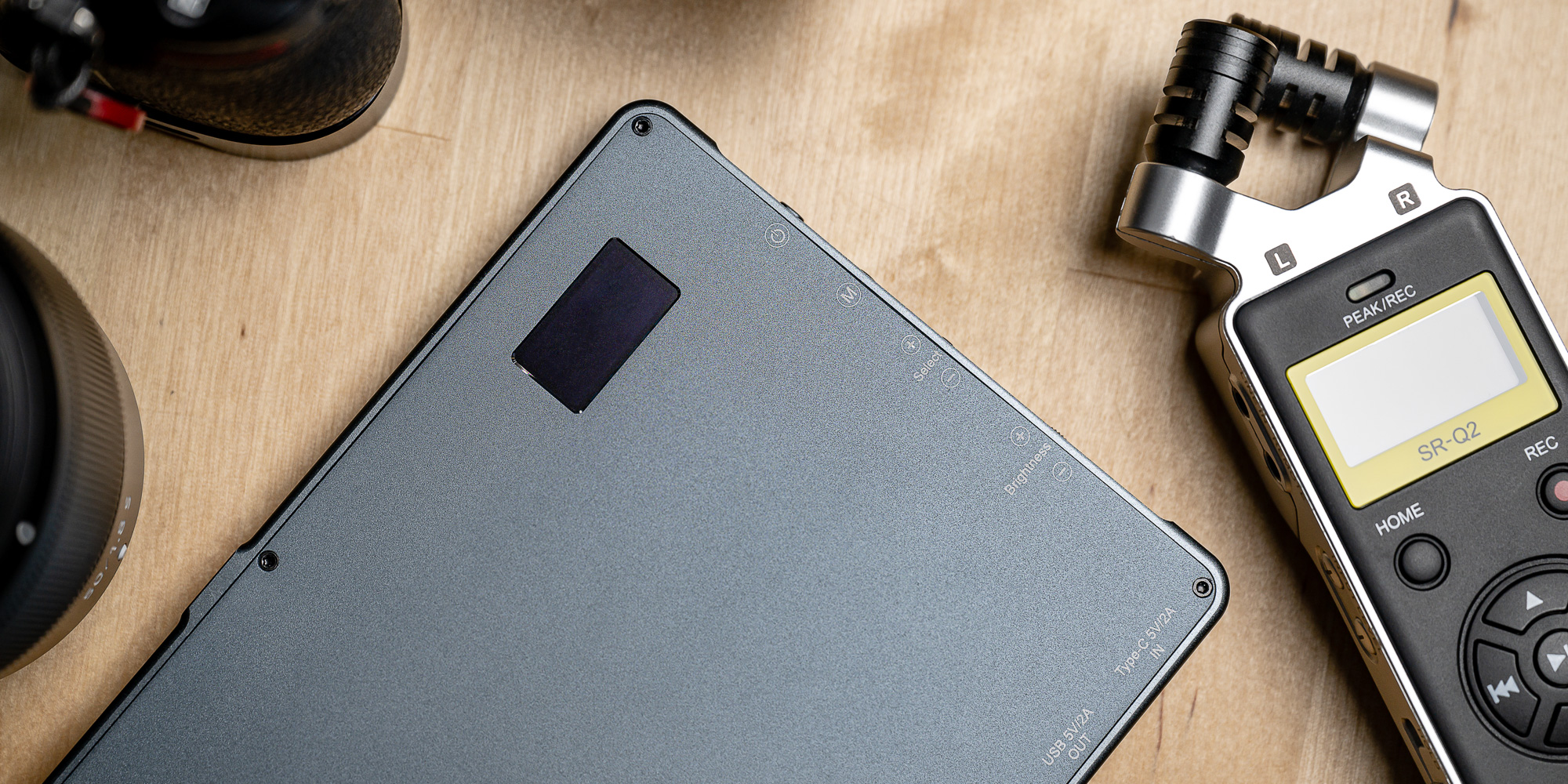 Magic color feeria
With the help of Newell RGB-W Rangha Max lamp, your photos and videos can be complemented with colorful light that will add a unique touch to your shots and frames. The HSI palette is 360 colors that you can customize by adjusting their saturation. That's 36,000 different color combinations! You do not need to use effect foils or filters that are offered by mobile applications. With a small lamp, you can get unique colorful effects just by pressing the shutter button or record button!
Hollywood special effects
Newell RGB-W Rangha Max offers 21 unique special modes, which are divided into 7 groups. These are unique lighting effects, based on different sequences of colors or flashes. They allow you to simulate a flash, TV, candle, fire, strobe, fireworks, disco lights or the roar of a police car. Newell RGB-W Rangha Max will let you feel the magic of cinema, without having to reach for additional accessories!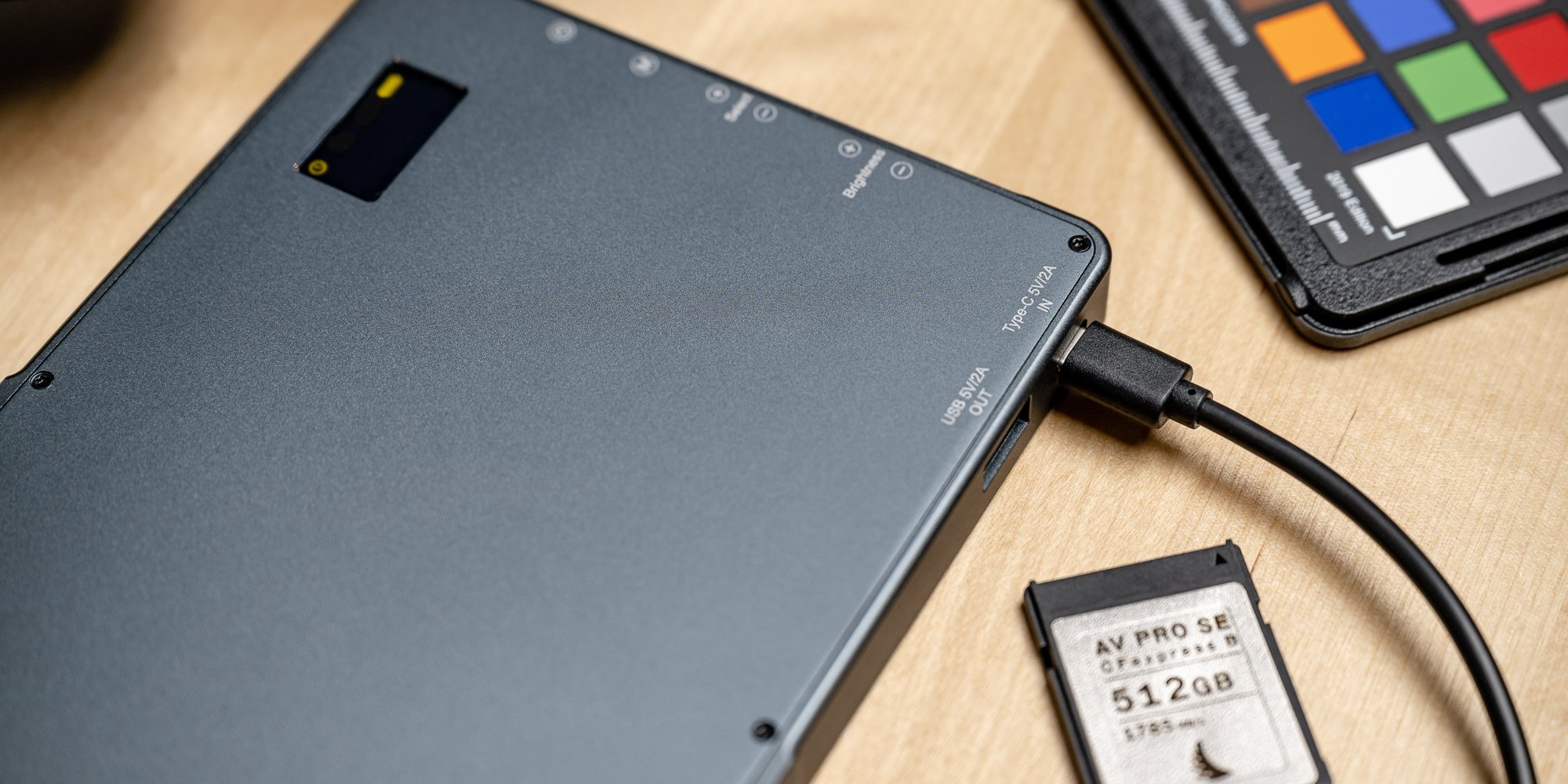 Lamp and powerbank in one
Newell RGB-W Rangha Max LED lamp is equipped with over 2 times more capacity battery, compared to the older sister. 10000 mAh will allow you to use the portable light source for up to 3 hours on a single charge! On the body of the device, in addition to the USB-C port that allows you to replenish the power of the lamp, there is also a USB port. Thanks to it you can turn the lamp into a powerbank and easily charge your smartphone, headphones or other accessories accompanying you on the shooting or photography set.
High-quality performance
The Newell RGB-W Rangha Max LED lamp with its dimensions resembles a small tablet or pocket calendar. The lightness of the device and small dimensions will allow you to fit it into almost any photographic bag. Housing made of aircraft grade aluminum will provide optimum protection in all conditions. The device also offers three ¼ inch threads. Thanks to them you can easily install the flash on a tripod, cage or rig, as well as connect it to additional accessories such as microphones, sound recorders or preview screens.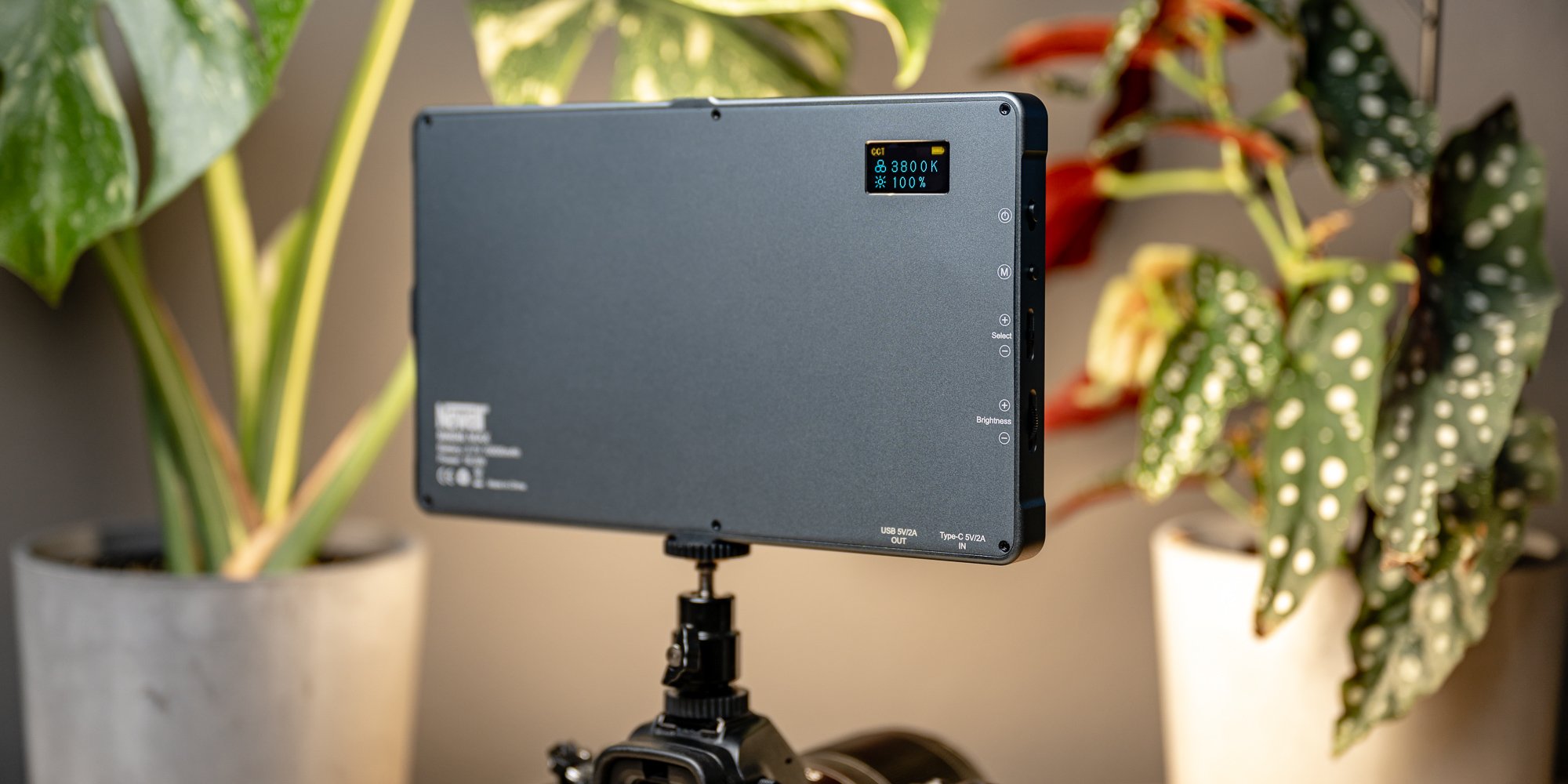 Accessory kit
In addition to the lamp itself, in the box you will find additional accessories that will make your work easier and more comfortable. The soft case will provide optimal safety during transport, and the USB-A/USB-C cable will allow you to charge the device. The set also includes two adapters with cold shoe for mounting in the "sled" of the camera. One of them is equipped with a small ball head. This solution will help you precisely adjust the angle of the lamp.
Specification
Model: Newell RGB-W Rangha Max
Max. luminous flux: 1200 lumens (100% / 5600 K)
Max. power: 18,5 W
CRI ratio: >96
Colour temperature: 2500 K – 9900 K
Brightness: 1 – 100 %
Saturation: 1 – 100 %
HSI: 0 – 360 °
Max. luminous flux for HSI (H = 100% / L = 100%):

red – 750 lm
green – 950 lm
blue – 220 lm

Predefined scene simulations: 21 ready programs
Battery: 10000 mAh (3.7 V)
USB-C port: 5 V / 2 A
USB-A port: 5 V / 2 A
Dimensions: 200 x 121 x 13.7 mm
Weight: 508 g
Kit contents
Newell RGB-W Rangha Max LED lamp
USB-A / USB-C cable
Ball head with cold shoe
Adapter with cold shoe
Etui