Description
As a home DIYer or a professional who was born with a screwdriver in your hand, you must know the importance of a good and reliable power source for your power tools. Newell batteries guarantee high quality, safety and full compatibility, all at an attractive price. Newell branded batteries are suitable as replacements for chargers and power tools powered by DeWALT 18V XR Li-ion DCB181, DCB182, DCB183, DCB184, DCB185, DCB186, DCB200, DCB201, DCB202, DCB203, DCB204, DCB205, DCB206, DCB180, DCB181, DCB182, DCB183, DCB184 and other compatible.
Main features of Newell DCB184 battery
full compatibility with devices using DeWALT DCB184 battery (and others from the compatibility list)
large capacity – 5 Ah / 90 Wh
intelligent power management – IC System
charge level indicator – 3 LEDs
high quality materials – housing made of durable plastic
Full compatibility
The cells have been designed to work with branded power tools and chargers from other manufacturers. They guarantee stable and safe operation with any device powered by a DeWALT DCB184 battery pack.
Large power reserve
Newell batteries are made using the best quality cells from leading manufacturer LG Chem. Given in ampere-hours capacity (5 Ah / 90 Wh) is real and provides a long operating time.
Charge Level Indicator
LED indicator will inform you about the current charge level. Thanks to it you will know when to charge the battery and you will not be surprised by lack of energy at the least opportune moment!
Excellent build quality
The battery case is made of extremely strong plastic. It provides excellent protection for the electronics and Li-ion cells hidden inside. Nothing creaks, nothing rattles, everything works fine and fits like a glove to your power tools and chargers.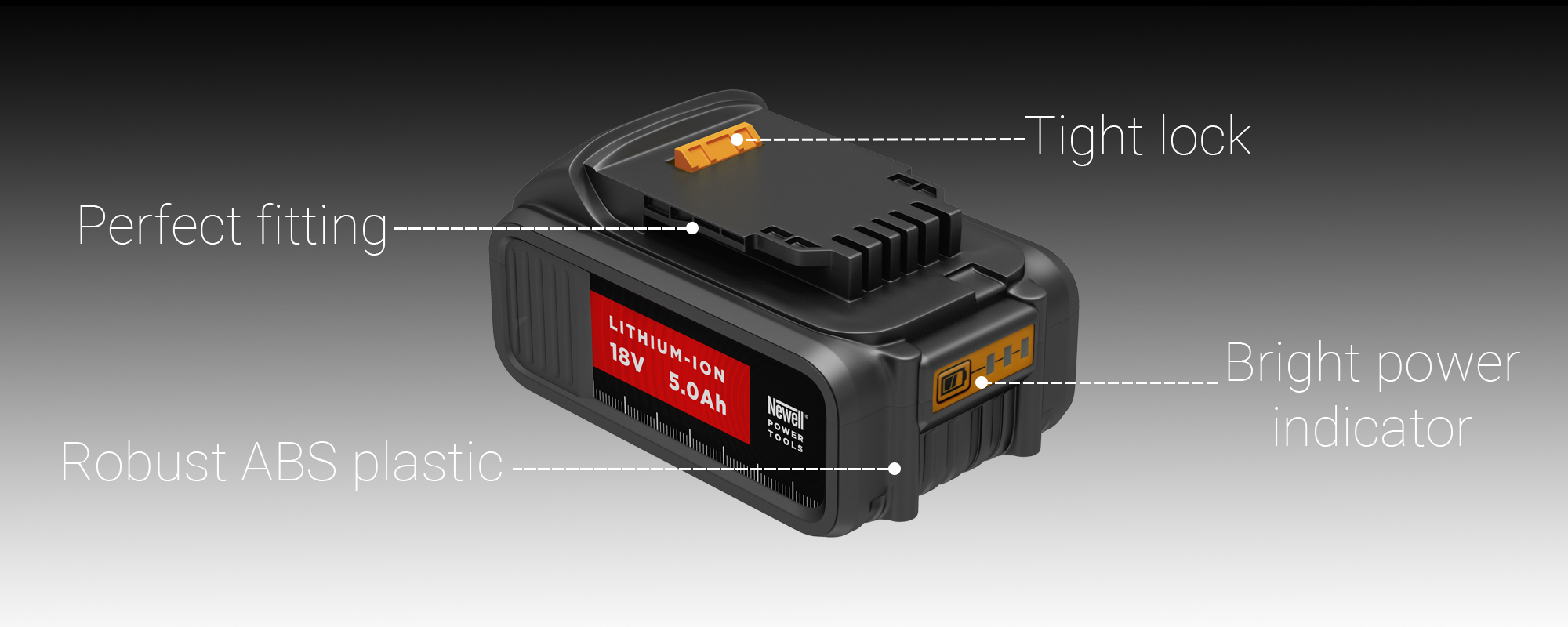 Advanced technology
Newell DCB184 is built with lithium-ion technology. It allows for repeated charging and discharging, as well as recharging at any time without the risk of memory effect. The manufacturer of the cells is the industry leader – LG Chem.
Safety guarantee
Built-in intelligent protection system, based on IC electronic circuit regulates the charging process. This guarantees safety and protection for the device and the user.
Many years of experience
Newell has been providing high quality power solutions since 2006. Taking care of very good performance and safety, it uses only cells from reputable manufacturers.
Specification
Model: Newell DCB184
replacement: DeWALT DCB184
technology: Li-ion
cell manufacturer: LG Chem
capacity: 5 Ah / 90 Wh
voltage: 18 V
charge indicator: 3 LEDs
allowable charging temperature: 10 – 30 °C (50 – 86 °F)
Approved operating ambient temperature: 0 – 40 °C (32 – 104 °F)
Capacitive charging temperature: 10 – 30 °C (50 – 86 °F)
Dimensions: 7.5 x 11.7 x 6.6 cm
weight: 605 g
Compatibility
replacement for DeWALT DCB184 battery
replaces batteries with the symbol:

DeWALT 18V XR Li-ion DCB181, DCB182, DCB183, DCB184, DCB185, DCB186, DCB200, DCB201, DCB202, DCB203, DCB204, DCB205, DCB206, DCB180, DCB181, DCB182, DCB183, DCB184 and other compatible

Dedicated to the following power tools:

DeWALT DCB180, DCB181, DCB182, DCB183, DCB184 and other compatible tools
Kit contents
Newell DCB184 battery (replacement for DeWALT DCB184 battery)