Description
Newell RGB Kathi Pro is an LED light designed for creative photographers and filmmakers. The characteristic shape of the lightsaber and 64 cm in length will give you great creative freedom, both when working "handheld" and when the device is installed on a tripod with 1/4 thread". The lamp offers adjustable color temperature (2700 – 6500 K), the ability to change the color of the light within HSI's extensive color space, as well as 12 preset special effects (including fire engine, thunderstorm or campfire). The USB-C port allows quick charging of the built-in battery or powering with a power bank. It's the perfect choice for people who want to play with colors, take atmospheric photos and videos, experiment with special effects or create spectacular "light painting".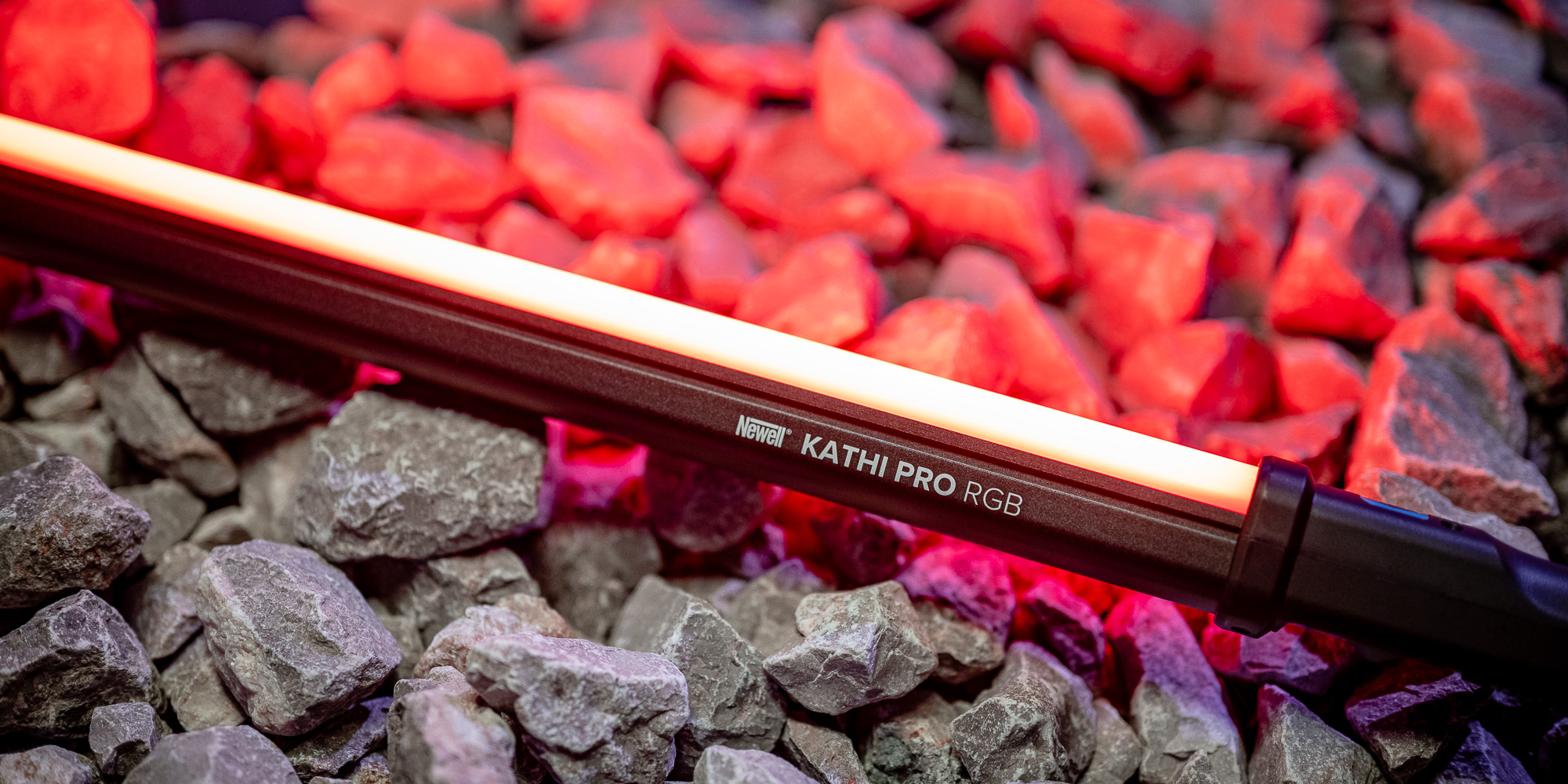 Main product features
Lightsaber-shaped LED lamp
64 cm long
lightweight and durable housing made of aluminum
provides soft, high-quality light
adjustable color temperature from 2700 to 6500 K
adjustable brightness from 0 to 100%
possibility to change the color of the light within the HSI color space
adjustment of saturation and brightness for each selected color
embedded OLED screen for easy control of lamp operating parameters
ergonomic dial for quick adjustment
built-in rechargeable battery with 2600 mAh capacity
12 predefined FX special effects (RGB slow transitions, RGB fast transitions, lightning storm, flashing bulb, TV, candle, campfire, fireworks, police, fire truck, ambulance, SOS)
possibility to personalize special effects (change frequency and brightness)
remote control via mobile app
1/4″ thread for tripod mounting
USB-C port for charging or powering the sword with a power bank
special cap to protect the USB-C port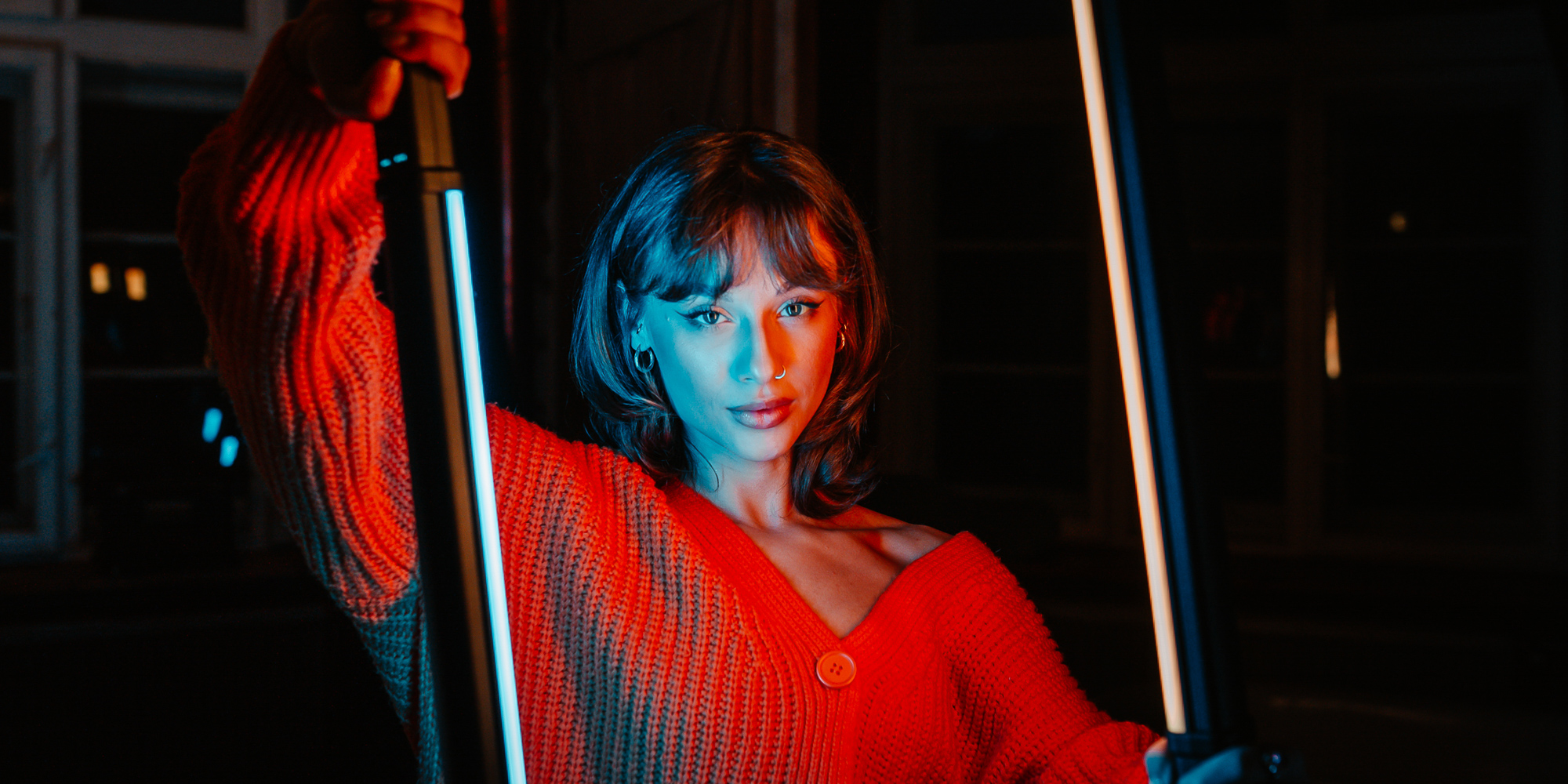 Even more possibilities
Acknowledged in the world of filmmakers and photographers, the Newell RGB Kathi lightsaber has received a new edition in the Pro variant. The lamp is 9 centimeters longer than its older sister and offers even more versatility when working creatively with light. The elongated shape, lightweight and durable aluminum housing, comfortable grip, mobile app support and the ability to be installed on a tripod with 1/4″ threads are all features that will help you create unique atmospheres with a feast of colors available within the HSI color space.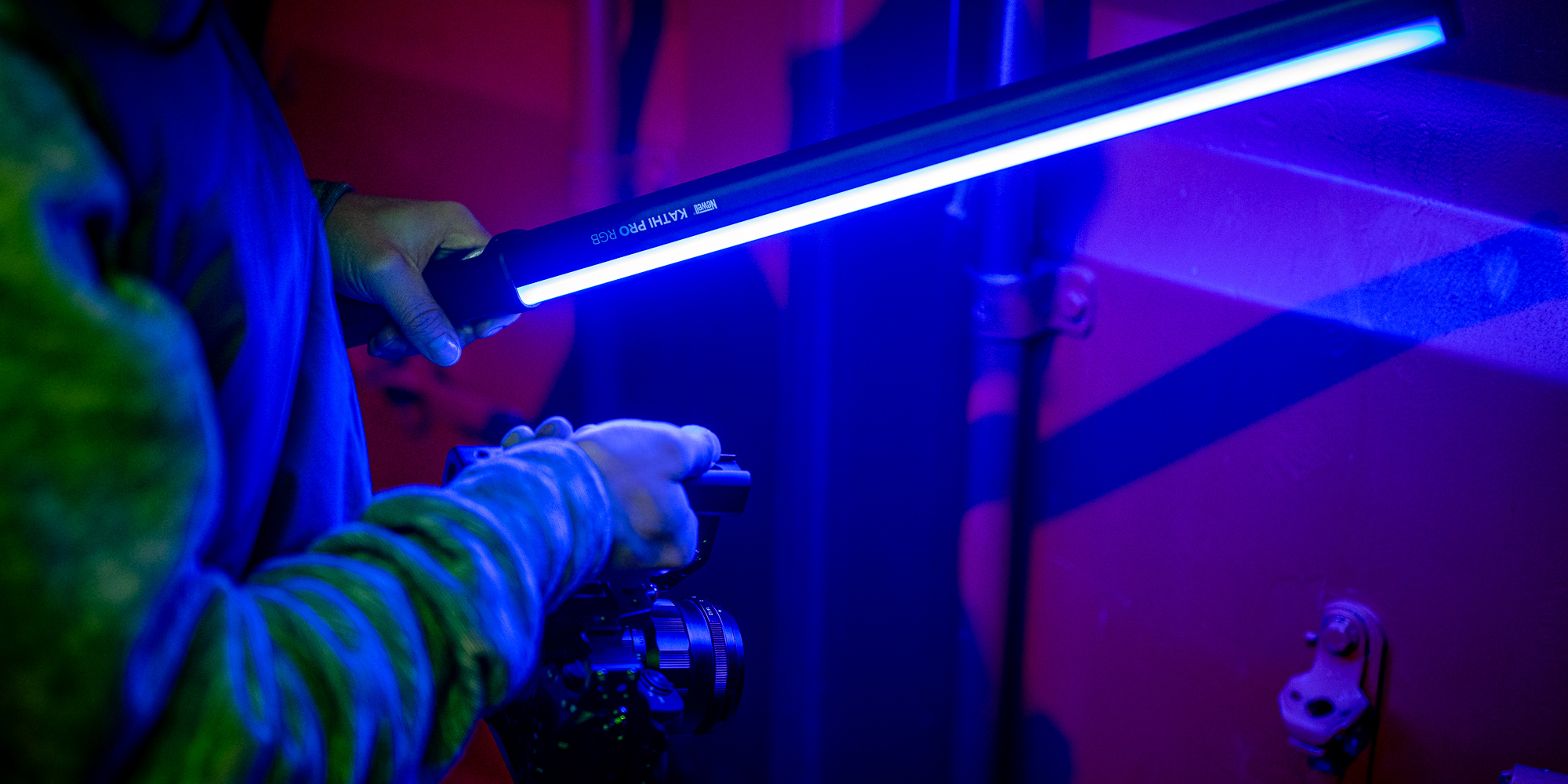 Magic of colors
The Newell RGB Kathi Pro is the perfect choice for those who want to experiment with colors and use them to create a unique atmosphere for movies or photos. The lamp offers 360 different colors available within the HSI space. For each color you can also set a specific brightness and saturation from 0 to 100. This gives you thousands of possible combinations of settings!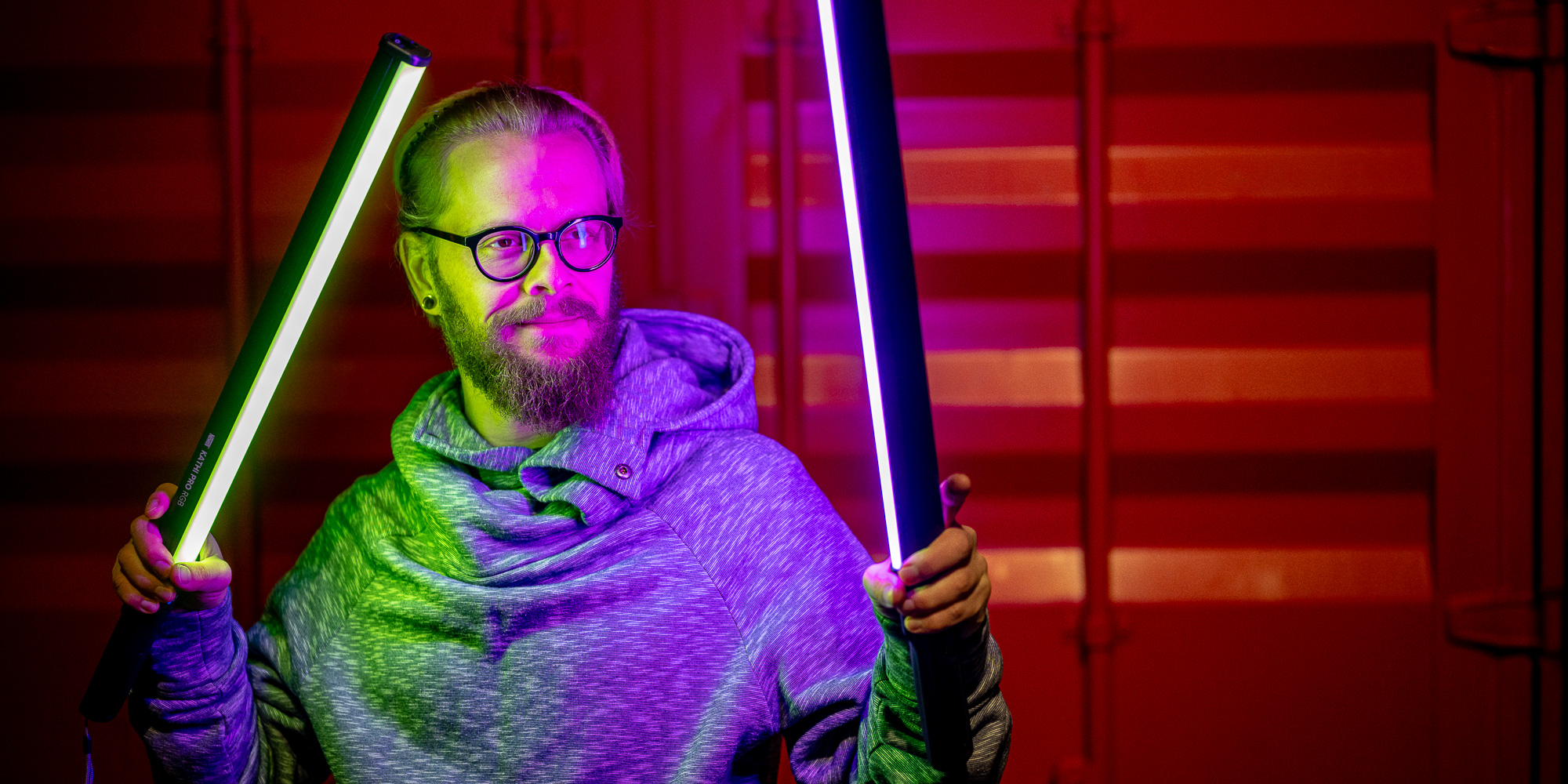 Perfect light matching
The Newell RGB Kathi Pro LED lamp allows you to precisely adjust the color temperature of the light from 2700 to 6500 K. This parameter can be modified using a knob built into the handle or a slider on the mobile app. Such a solution provides great accuracy when you want to adjust the light to the conditions you find.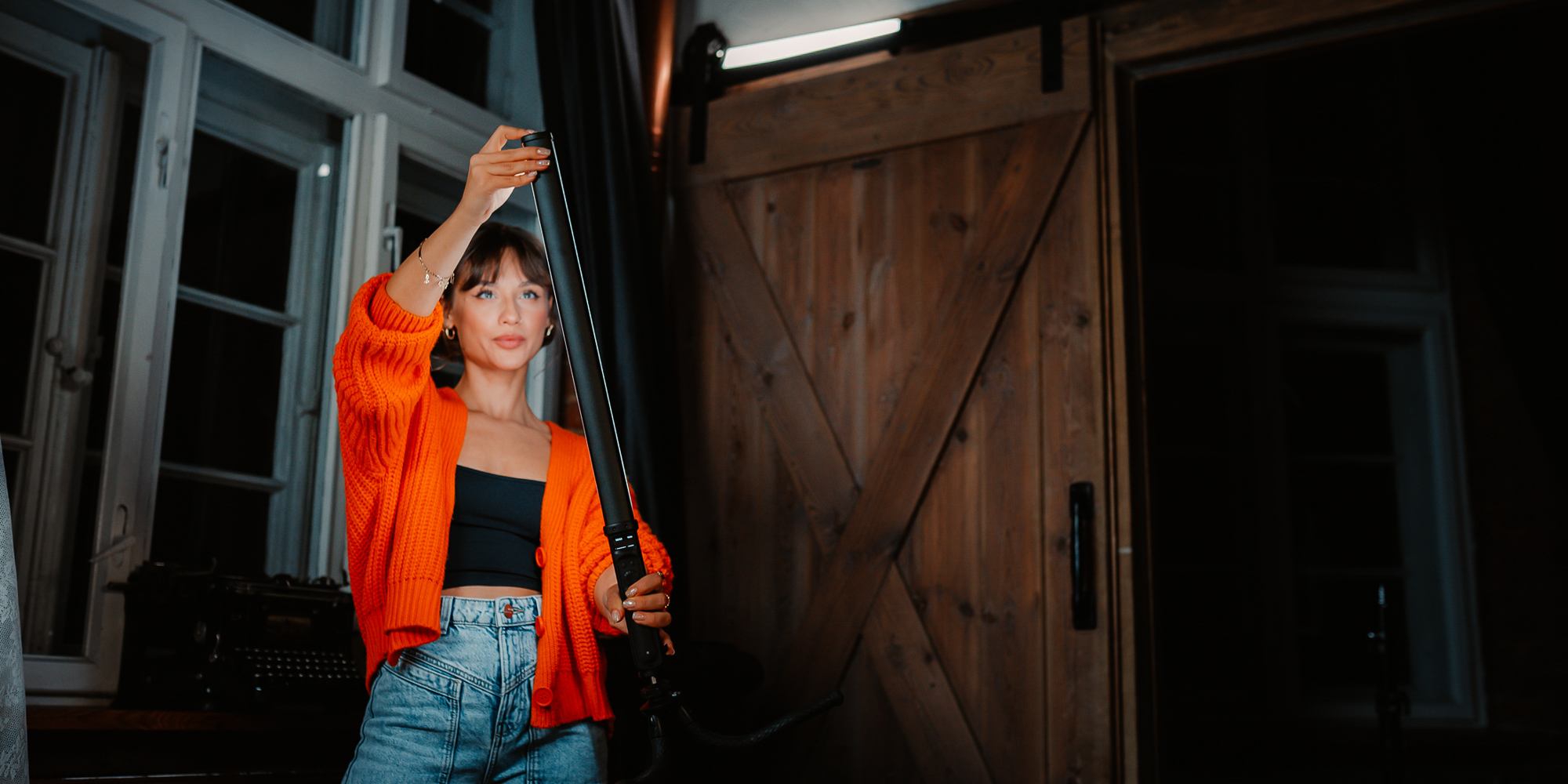 12 special effects
With the Newell RGB Kathi Pro lightsaber, you can create unforgettable movie scenes where sequences of changing colors and flashes or automatic dimming and brightening of light will bring your creation closer to Hollywood productions. With 12 ready-made special effects, you will simulate a thunderstorm, a broken light bulb, a TV, a candle, a bonfire, fireworks, a police car or a fire truck, among others. You can customize each effect by adjusting the frequency level and brightness. You'll do this with a dial built into the handle or using the mobile app.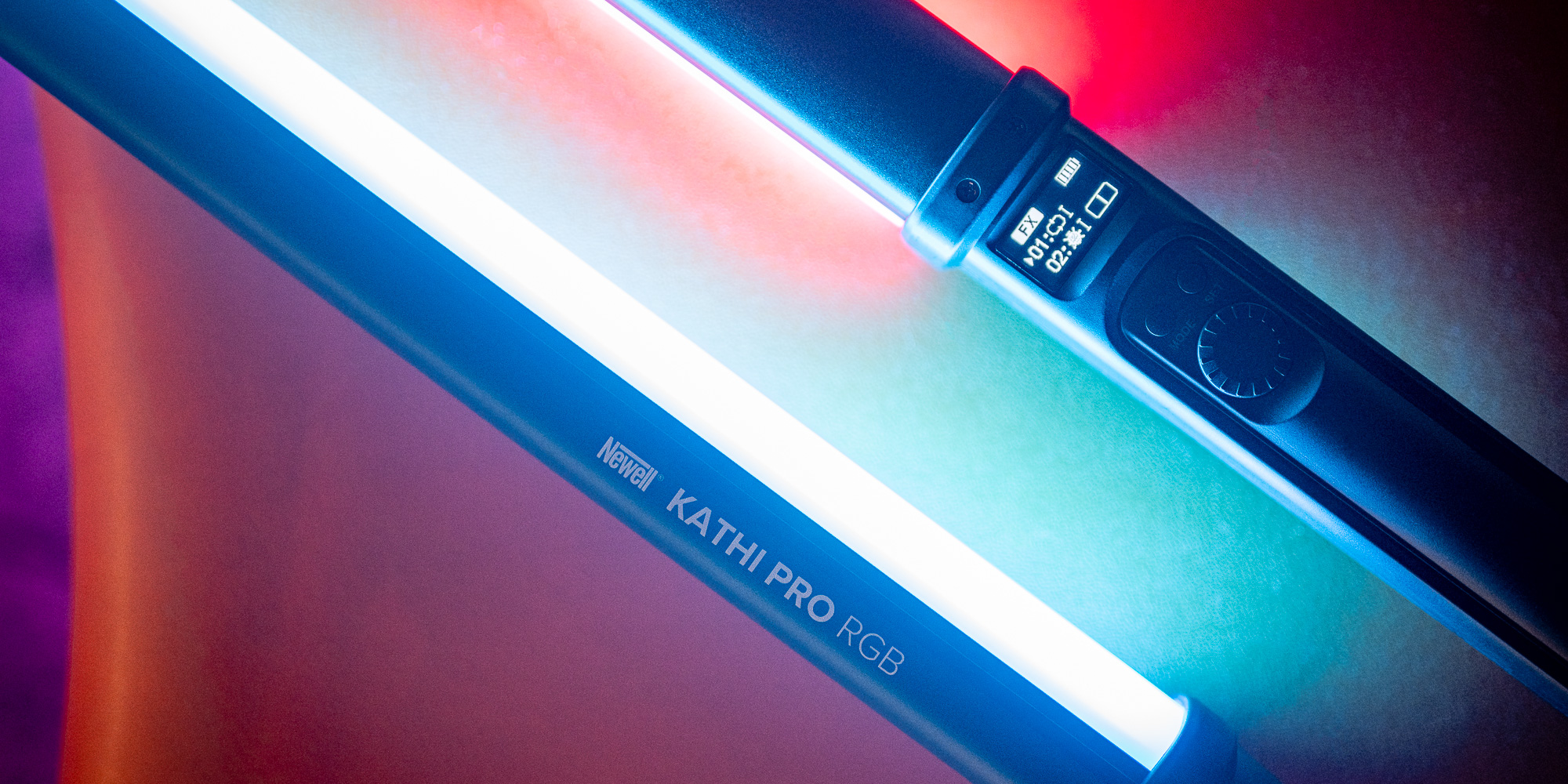 Convenient-powering-method
The Newell RGB Kathi Pro LED lamp is equipped with a 2600 mAh rechargeable battery. This ensures a long operating time and allows you to forget about replaceable batteries. When the device gets low, simply plug it in for charging using the USB-C port and the included cable. Importantly, the outlet can also power the flash. If you're facing hours of shooting, simply plug the lightsaber into a power bank or charger for even more convenience!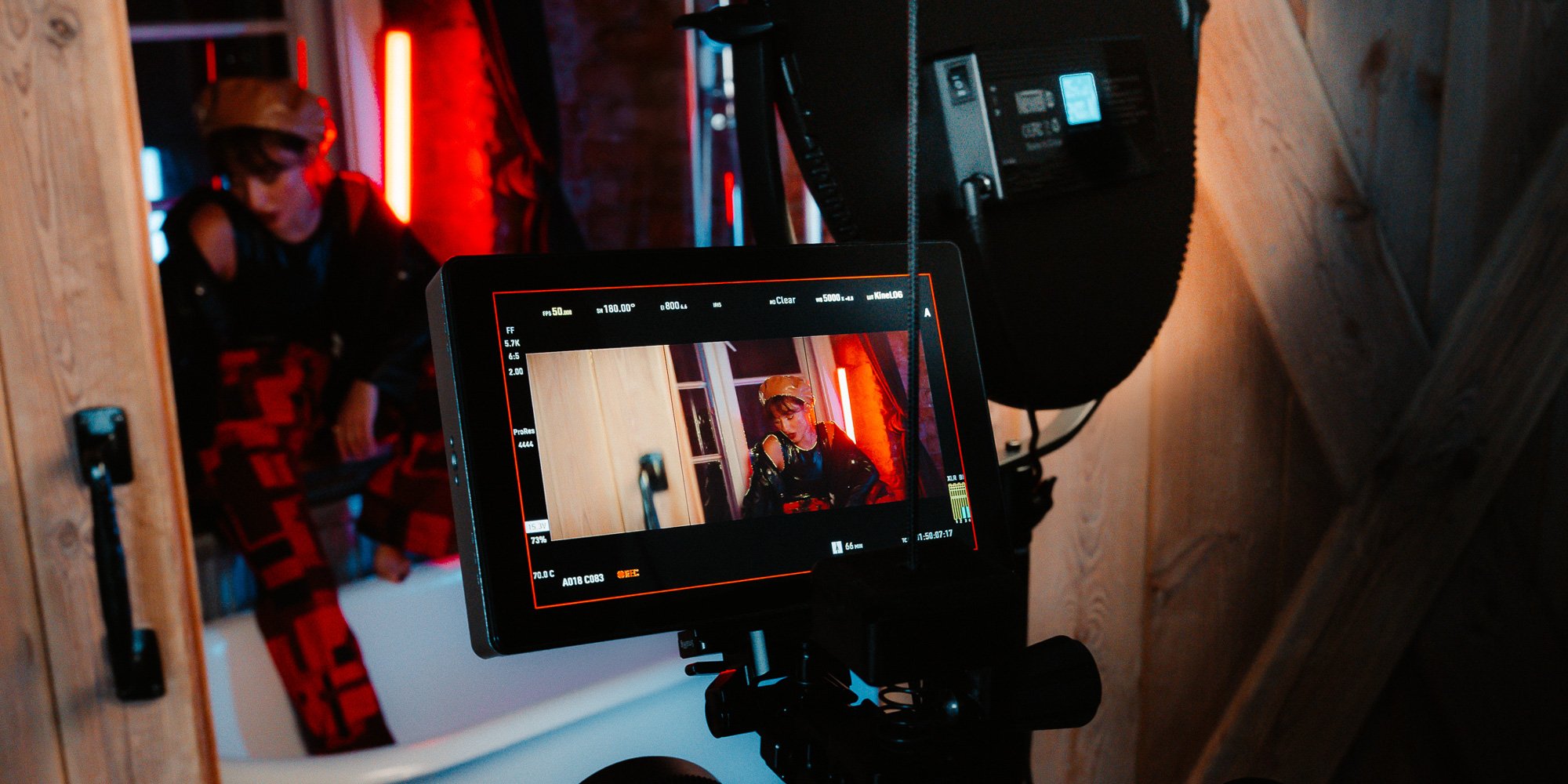 Remote-control-by-application
As befits a lightsaber, the Newell RGB Kathi Pro offers a comfortable grip that fits perfectly in the hand. This does not mean, however, that working "handheld" is the only solution. You can successfully install the lamp on a tripod with 1/4″ thread, and thanks to a mobile app, you can control the device remotely. The lightsaber can become part of the scenery or be located in a hard-to-reach place. The app with light meter function will allow you to conveniently switch between different colors, as well as control brightness and special effects.
MOBILE APP "LIGHT LINK" FOR WIRELESS LAMP OPERATION AVAILABLE FOR DOWNLOAD IN GOOGLE PLAY AND APP STORE*
*Application under development. Possible minor errors in the functioning of the application.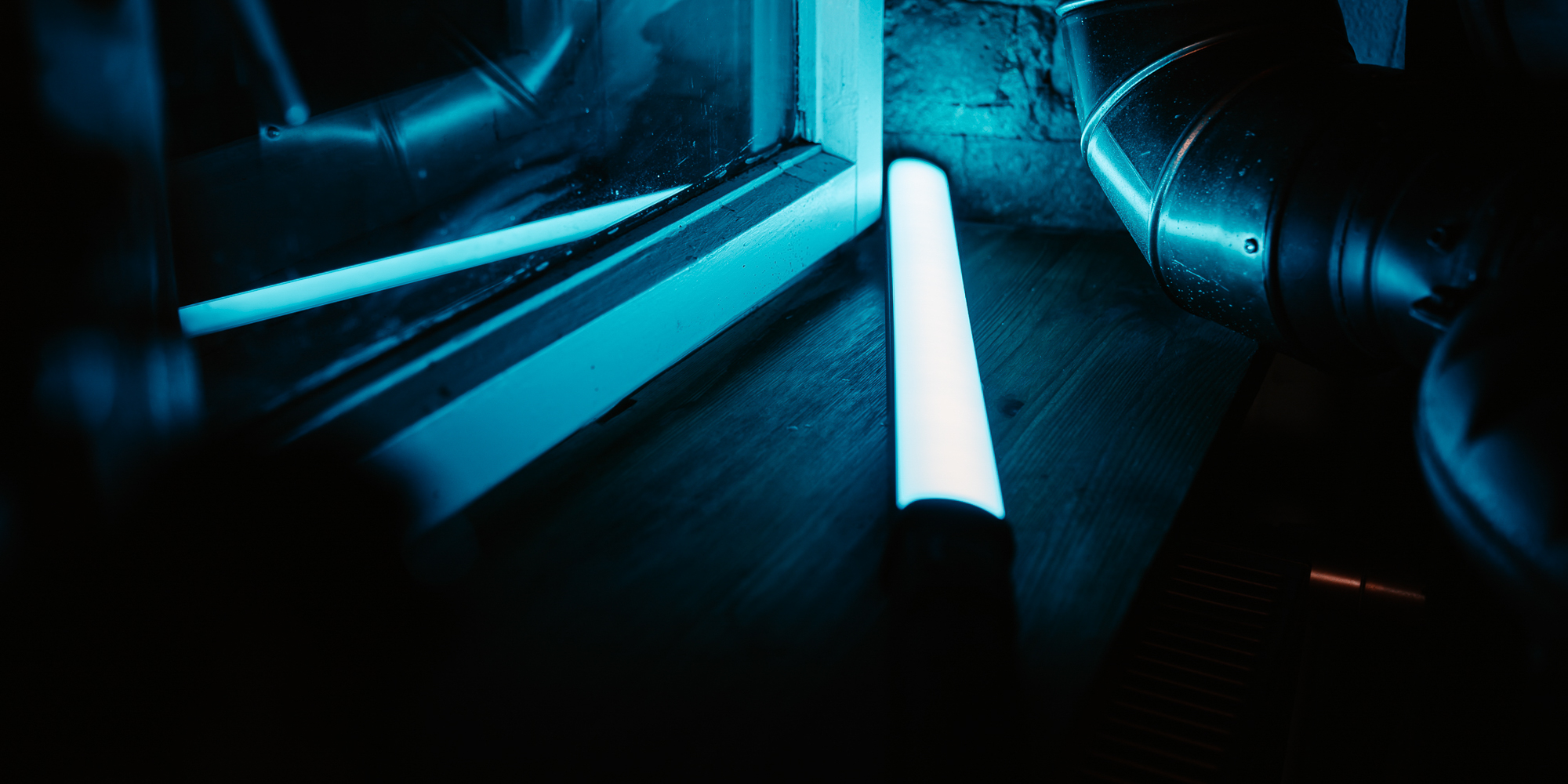 Specification
model: Newell RGB Kathi Pro
output power: 12 W
CRI: 95 – 97
TLCI: 98 – 99
color temperature range: 2700 – 6500 K
max brightness: 640 lux (from a distance of 0.5 m)
dimming range: 0 – 100%
RGB range: 0 – 360º
battery capacity: 2600 mAh
remote control: mobile app
dimensions: 640 x 36 x 35 mm
weight: 570 g
Kit contents
Newell RGB LED lamp Kathi Pro
Cover for the lamp
USB-A / USB-C cable