Description
Newell Hub USB-C with Drive Adapter is a unique stand that turns your Mac mini into a powerful workstation. With its help, you'll also extend the functionality of dozens of desktops, laptops, tablets and smartphones equipped with a USB-C port. You can install a SATA drive (SSD or HDD) inside, gaining up to 2TB of additional space for your data. The Newell Hub USB-C also allows you to use 2 memory cards with a maximum capacity of 1TB simultaneously – SD and Micro SD. Hub is equipped with a number of ports offering high-speed data transmission (1 x USB-C, 2x USB 3.0, 1 x USB 2.0). The manufacturer also took care of the proprietary ventilation and heat dissipation system.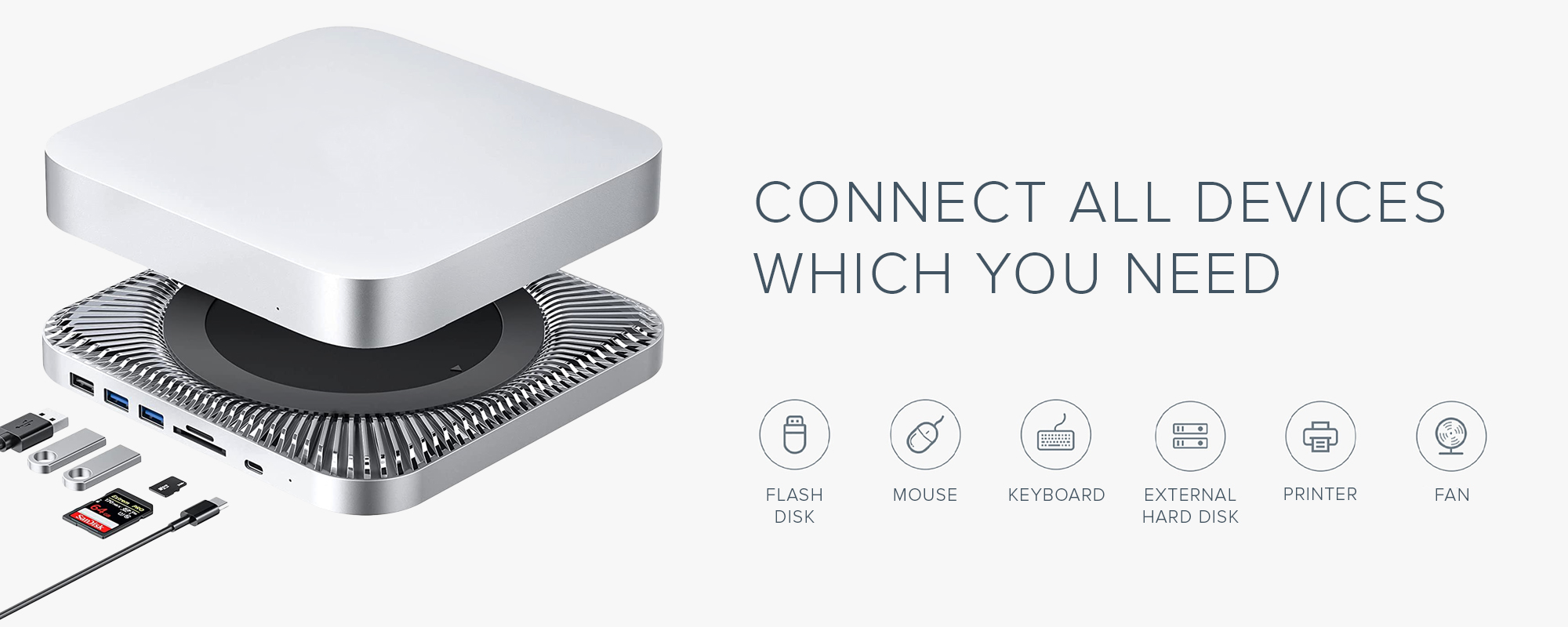 Main product features
an innovative USB-C hub with drive adapter, featuring an array of useful ports
compatible with USB-C equipped computers, laptops, tablets and smartphones
perfect fit for Apple Mac mini (2018 and 2020) and M1
powers you to turn your Apple Mac mini into a powerful workstation
patented vent design for proper airflow
optimal heat dissipation when Apple Mac mini is placed on the stand
adapter for 2.5″ SATA drive (HDD or SSD)
quick and convenient drive installation without having to reach for additional tools
available ports: 1 x USB-C, 2 x USB 3.0, 1 x USB 2.0
memory card readers: 1 x SD and 1 x Micro SD
refined design to avoid Bluetooth and wi-fi signal interference when the computer is placed on the cradle
elegant and stylish premium design
made of durable aluminum alloy and plastic
includes USB-C / USB-C cable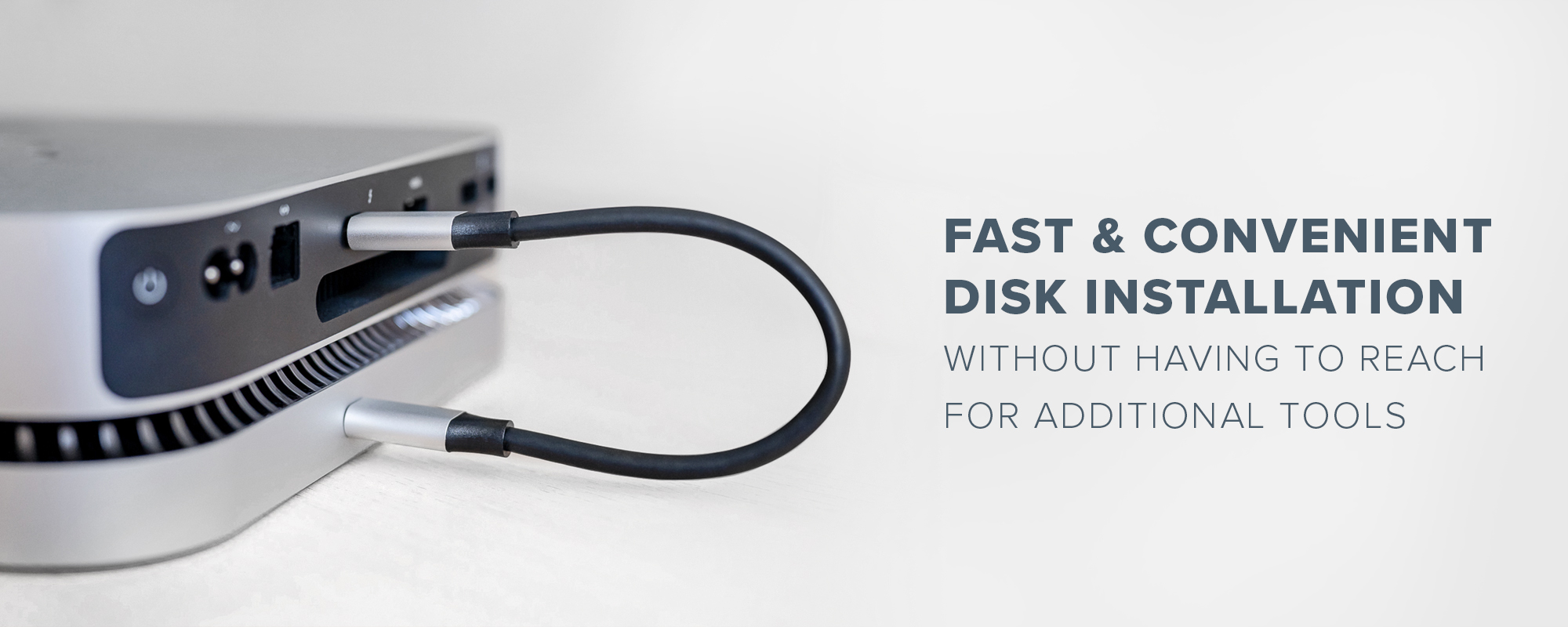 Extend the capabilities of your device
Minimalist design is a trend that many electronics manufacturers have been following for several years. Unfortunately, in many cases this means a reduction in the number of ports available on computer cases. If you use a lot of peripherals and you still need to plug them in alternately, or you simply don't have enough free sockets, reach for the innovative Newell Hub USB-C stand. One small device is enough to effectively expand and organize your workstation!
Ideal with Mac mini
Although the Newell Hub USB-C cradle with SATA SSD adapter is compatible with dozens of USB-C equipped devices, its shape has been perfectly tailored to fit Apple Mac mini – 2018 and 2020 models. This duo will allow you to create a perfect workstation that pleases the eyes, while providing comfortable access to data on drives and memory cards, as well as optimal convenience for working with peripherals.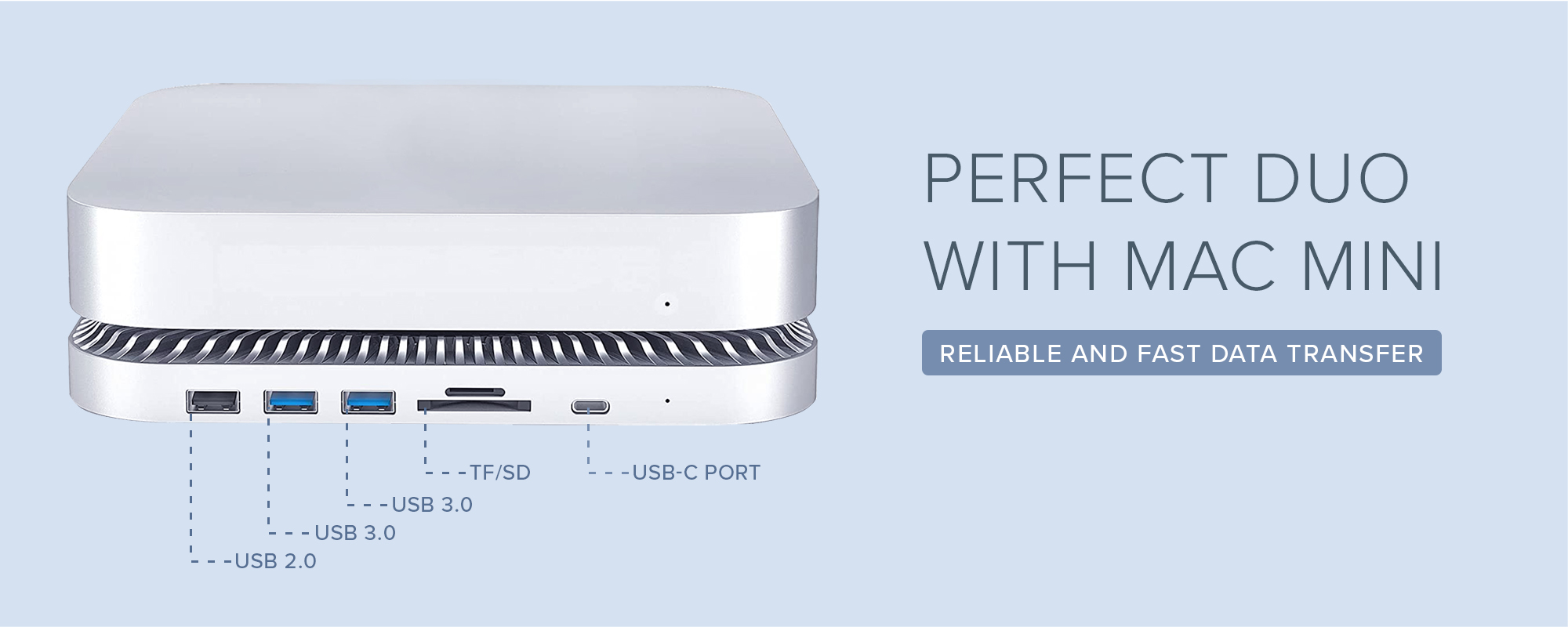 Premium-class external drive
The ergonomic design of the stand allows you to install a 2.5″ SATA drive inside the device. Importantly, you do not need any tools to place the data carrier in the matching compartment protected by a tight cover. The hub supports HDD and SSD up to 2 TB. The maximum data transfer speed you can achieve is up to 300 Mbps. The combination of Mac mini stand, drive adapter and hub means even more free space on your desk and fewer USB ports occupied by external storage media and memory card adapters!
The 2.5″ SATA drive is not part of the kit and must be purchased separately.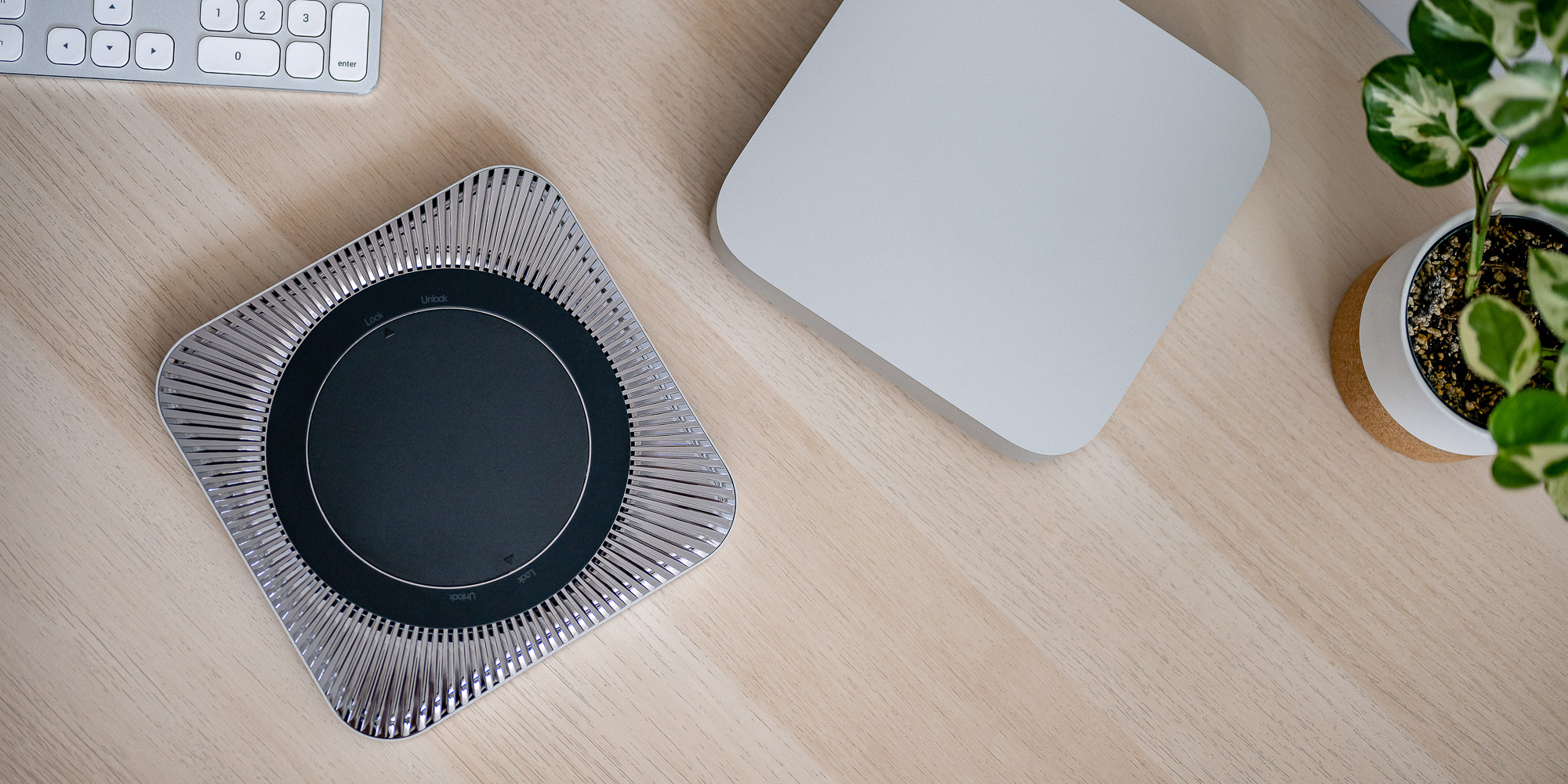 Not just computers
More and more smartphones and tablets today offer USB-C ports, primarily for fast charging of devices. With the Newell Hub USB-C cradle with SATA SSD adapter, you can conveniently transfer data or use peripherals such as printers or keyboards. Who says a tablet or smartphone can't be the base for your mobile workstation! With the Newell Hub USB-C stand you will discover new uses for your mobile devices!
Fast data transfer
The Newell Hub USB-C stand with SATA SSD adapter for Mac Mini provides reliable and fast data transfer. You can successfully work directly on the files you store on the SSD media installed inside. When copying photos, videos or documents from external drives or SD / Micro SD cards, you can be sure that the whole process will not take long. The performance of the device in terms of data transfer speed looks like this:
SSD 2.5″: up to 300 Mbps
HDD 2.5″: up to 100 Mb/s
USB-C port: up to 5 Gbps
USB 3.0 ports: up to 5 Gbps
USB 2.0 port: up to 480 Mbps
SD card: up to 5Gbps
Micro SD card: up to 5Gbps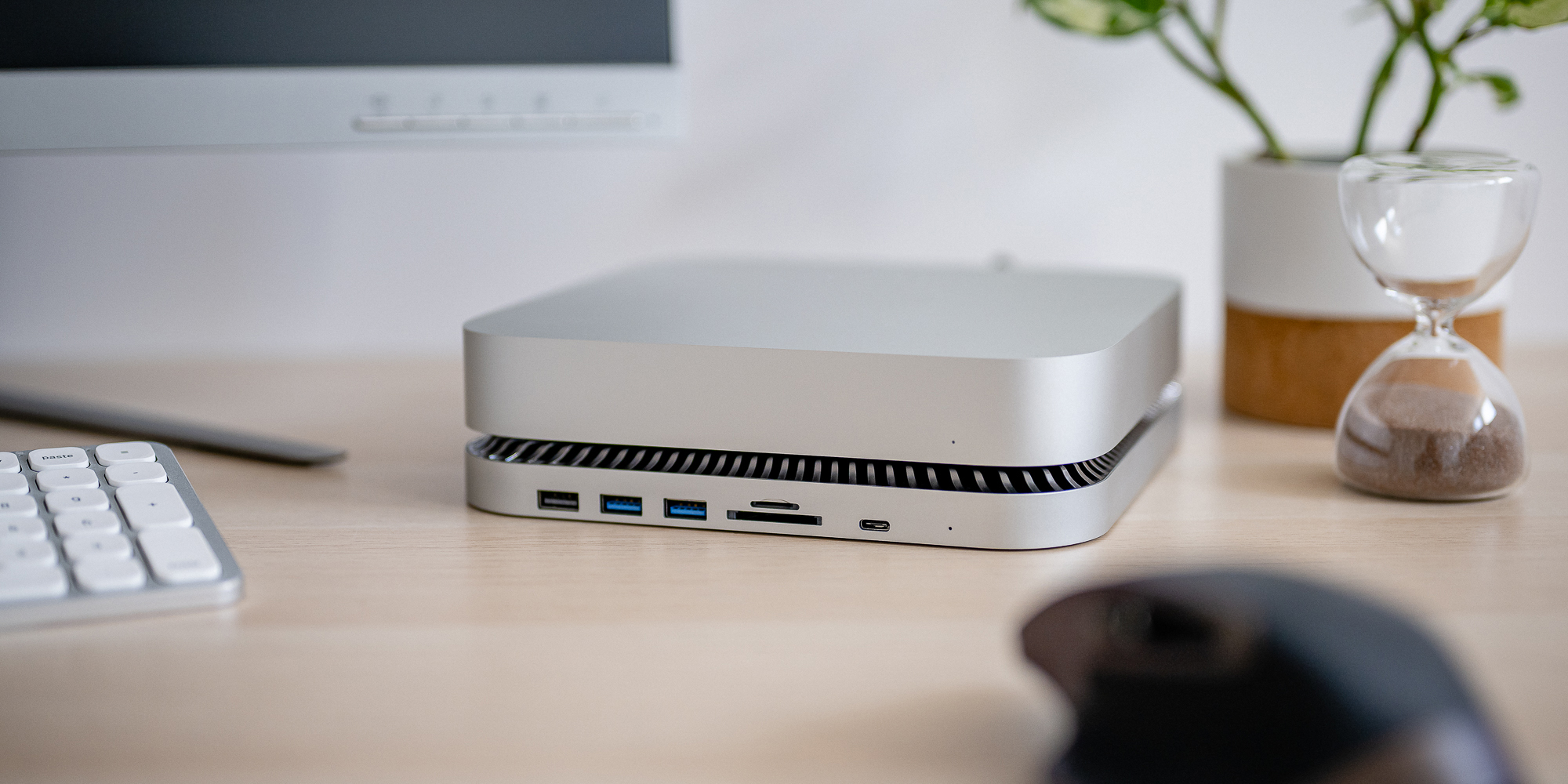 Refined design
The device is made of lightweight and durable aluminum alloy. The silver casing perfectly matches the finish of the Apple Mac mini. The use of a special mesh ensures optimal ventilation and allows for efficient heat dissipation. The case is designed in such a way that its contact with the computer in no way interferes with the Bluetooth and wi-fi signal. When you place your Mac mini on the Newell Hub USB-C cradle with SATA SSD adapter, the devices will create one extremely functional whole, which will be perfect for the most demanding users.
---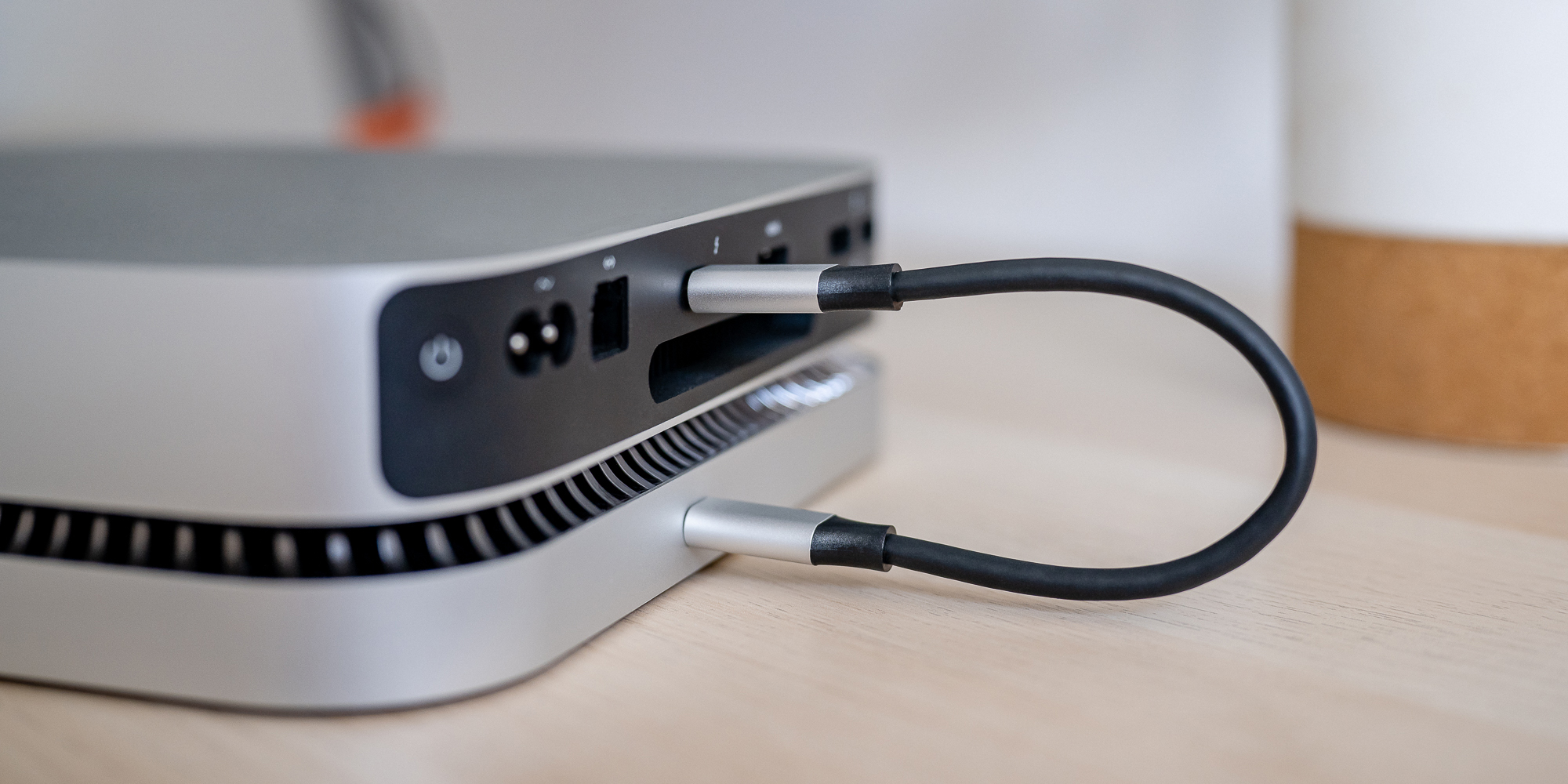 Specification
model: Newell Hub USB-C with SATA SSD Adapter for Mac Mini
material: aluminum alloy/ plastic
color: silver
input: USB-C (female port)
disk adapter:

1 x 2.5″ SATA SSD or HDD (up to 2 TB capacity)
data transfer rate (SSD): up to 300 Mbps
data transfer rate (SSD): up to 300 Mbps
data transfer rate (HDD): up to 100 Mbps
compatible data transfer rate (SSD): up to 300 Mbps
thickness of compatible drives: 9 or 7.5 mm
compatible features, protocols and technologies: UASP, TRIM, S.M.A.R.T.

ports:

1 x USB-C: 5V / 900 mAh (data transfer rate up to 5 Gbps)
2 x USB 3.0: 5V / 900 mAh (data transfer rate up to 5 Gbps)
1 x USB 2.0: 5V / 500 mAh (data transfer rate up to 480 Mbps)

memory card readers:

1 x SD: supports cards up to 1 TB, data transfer rate up to 5Gbps
supported protocols: SD, SD HC, SD XC
ability to use 2 readers at once

dimensions: 197 x 197 x 15 mm
weight: 500 g
Kit Content
Newell Hub USB-C stand with SATA SSD adapter for Mac Mini
USB-C / USB-C cable