The Newell brand has been on the market since 2009. Throughout all these years, we have carefully listened to the voice of users of our battery replacements and consistently expanded our offer with new products. Today we already boast 4 different battery series used in the photography and film industry. If you're wondering how Newell's classic batteries differ from those with Plus, SupraCell and USB-C in their names, this article was written specifically with you in mind. All the information you need to make the right purchasing decision is in one text. With it, you can quickly and conveniently learn about the characteristics of all Newell battery replacements.

The 4 series of battery replacements represent a total of dozens of different cells addressing different user needs and compatible with almost all the most popular cameras on the market. The main heroes of the list are: Newell, Newell Plus, Newell SupraCell and Newell USB-C. First we will look at the similarities, and then we will move on to the features that distinguish each of the cell series. We hope this comparison will help you make the right decision and buy a battery that meets all your needs!
From this article you will learn: 
what modern technologies Newell battery replacements offer;
what types of batteries are offered by Newell;
what protection Newell batteries provide;
how Newell rechargeable batteries differ from each other;
what the "Plus" in the name of Newell rechargeable batteries means;
which battery will perform best in cold and hot weather;
what are the characteristics of Newell SupraCell batteries;
which battery to choose so you can charge it with a USB-C cable without reaching for a charger;
what devices Newell batteries fit into;
which Newell batteries come with a 40-month warranty;
which chargers Newell batteries are compatible with.
Protection and safety of Newell batteries
All Newell batteries use an intelligent safety system to ensure optimal performance in cooperation with compatible devices. It regulates the charging process while ensuring a high level of safety. This guarantees reliability and durability, as well as adequate protection against overheating, overcharging or overloading.
Advanced technology
Newell batteries are based on lithium-ion technology. As a result, they can be charged and discharged repeatedly. The battery can be recharged at any time. The advanced technology used by the Newell brand also avoids the occurrence of the so-called memory effect, i.e. the device "remembers" the reduced time of use.
Perfect fit
The best quality cells are used in the production of Newell batteries. As a result, the capacity quoted in milliampere-hours is real, which translates into a long operating time. Replacements one hundred percent reproduce the shape of the original batteries. Combined with properly selected plastic, they guarantee a perfect fit for the devices in which they will be placed.
A replacement is not a fake!
The phrase "good battery replacements" typed into Google can lead you to tempting offers that feature suspiciously low prices. Interestingly, many of the products that will show up in the search results will have Canon, Sony or Nikon logos. These links should be avoided at all costs. They are fakes that not only litter the market and illegally exploit the image of well-known brands, but also pose a great danger. What, then, to avoid dangerous situations and, without overpaying for the original battery, enjoy a high-quality battery? It is worth trusting a manufacturer of replacements, which for years has been making every effort to ensure that customers receive refined and tested products that users of photographic equipment recommend to each other (yes, we are talking about the Newell brand 🤭).
40 month warranty on Newell batteries
As a manufacturer of replacements, we are well aware that price is often the main criterion for choosing a battery. However, it is a pity to expose your equipment to irreparable damage that can be caused by suspiciously cheap cells. Very often they do not have the appropriate approvals, and their manufacturers disappear from the market as quickly as they appeared on it. Our batteries are protected from overcharging, overheating or overvoltage. The best proof that we are worth trusting is the 40-month warranty we provide on all Newell products. If anything bothers you, let us know and the claims department will help you solve the problem in no time!
Which Newell battery should I choose?
Before we move on to the characteristics of the various series of battery replacements, a brief reminder related to the selection of batteries that will be compatible with the cameras available on the market. This is what their sample designations look like:
Nikon – symbols beginning with "EN-EL" (e.g. EN-EL15)
Canon – symbols beginning with "LP" (e.g. LP-E6NH) lub "NB" (e.g. NB-13L)
Olympus – symbols beginning with "BL" (e.g. BLN-1, BLX-1, BLH-1)
Sony – symbols beginning with "NP" (e.g. NP-FZ100, NP-FW50)
Panasonic – symbols beginning with "DMW" (e.g. DMW-BLK22), "CGR" (e.g. CGR-S006) and "CGA" (e.g. CGA-S006E)
The battery symbol should be enough to select the right cell. You can also pay attention to the voltage expressed in volts (V). Ideally, it should correspond to the data found on the original battery, but deviations of 0.2 volts should not adversely affect the operation of the camera.
And so we come to the grande finale. If you already know which battery replacement will be compatible with your camera, it's time to choose a representative of one of the 4 series available in our offer.
Newell classic rechargeable batteries
The black Newell batteries marked with the brand logo, next to which no markings appear, are the basic series of our products. It is difficult to find a camera on the market today for which one of these cells cannot be matched. They offer the best value for money and, in most cases, provide the same performance as the original batteries supplied with cameras from well-known brands.
Newell battery + charger set
New to our offer are special kits that include classic Newell battery replacements (1 or 2 pieces) and a compatible dual-channel charger. This is all you need to prepare for long hours of working with your camera. Wherever access to the mains is limited, you can use the USB port to charge the cells with a laptop, power bank or smartphone charger. You also don't have to waste time searching for charger-compatible batteries. You'll find what you need in one box.
Newell Plus battery replacements
With the development of a wide range of Newell battery replacements, we decided to supplement our portfolio with products for slightly more demanding users. The Newell Plus series are batteries that will allow you to extend the operation of your devices. They are characterized by increased capacity, which was achieved by increasing the density of the accumulated charge. The cell thus guarantees longer powering of equipment on a single charge compared to older generation batteries. We currently offer 23 replacements for Newell Plus batteries designed to work with the following brands of equipment:
Olympus: BLH-1, BLS-5
Nikon: EN-EL14, EN-EL15, EN-EL23, EN-EL3e, EN-EL4a
Canon: LP-E10, LP-E17, LP-E6, LP-E6N, LP-E6NH, LP-E8
Sony: NP-BG1, NP-BX1, NP-F960, NP-F970 LCD, NP-FH50, NP-FM500H, NP-FW50, NP-FZ100
Fujifilm: NP-W126, NP-W235

 
Newell SupraCell for the most demanding
Newell SupraCell blue batteries were created with the most demanding users in mind. If you're a vlogger or travel photographer, you're probably charging the batteries powering your camera on a daily basis. SupraCell batteries have been created just for frequent refilling and discharging of cells. You can enjoy their capacity of 2300 mAh for a very long time. The SupraCell series is the durability that every filmmaker who does not part with his camera needs!
However, that's not all. This series of batteries is the ideal solution for those working in harsh weather conditions. If you often shoot or film outdoors, you've surely noticed that high and low temperatures can sometimes prevent you from working with your camera. When it's too hot, the cells like to overheat, and this requires interruptions in shooting. Frigid temperatures, on the other hand, contribute to batteries going crazy and suddenly refusing to cooperate. Our engineers took into account the extremes of low and high temperatures (from 20 to 90ºC). The batteries are also equipped with NTC resistors. They are responsible for controlling the temperature of the cell, which is enclosed in a housing made of fire-resistant V1 material. All these improvements will allow you to forget about possible problems associated with the use of the replacement in harsh weather conditions.
Newell SupraCell: compatible cameras
The Newell SupraCell series currently includes 4 cell models that are compatible with the most popular camera brands on the market, such as Canon, Nikon, Panasonic and Sony. These are battery replacements:
Sony NP-FZ100
Panasonic DMW-BLK22
Nikon EN-EL15C
Canon LP-E6NH
Below is a list of compatible cameras:
Canon: EOS 5D Mark II, 5D Mark III, 6D, 6D Mark II, 7D, 7D Mark II, 60D, 60Da, 70D, R, Ra, R5, R6
Nikon: D500, D600, D610, D750, D780, D800, D810, D850, D7000, D7100, D7200, D7500, Z5, Z6, Z7, Z6II, Z7II
Panasonic: Lumix S5, Lumix GH5, Lumix GH5S, Lumix G9
Sony: A7III, A7RIII, A7RIV, A9, A9II, A6600
Newell USB-C batteries: charging without a charger
Newell USB-C is the latest series of replacement batteries available in our offer. These batteries will save you more than once in an emergency situation. The charger you use every day is left in another backpack? Or are you looking for a way to recharge your batteries with a power bank? The USB-C port integrated into the battery pack will allow you to become independent of a traditional charger. All you need is a single cable, and charging your battery will be as easy as topping up your smartphone. At the same time, you don't have to worry about the process being out of your control. A small LED will light up red when you start charging with the USB-C cable and turn green when the energy reaches its peak.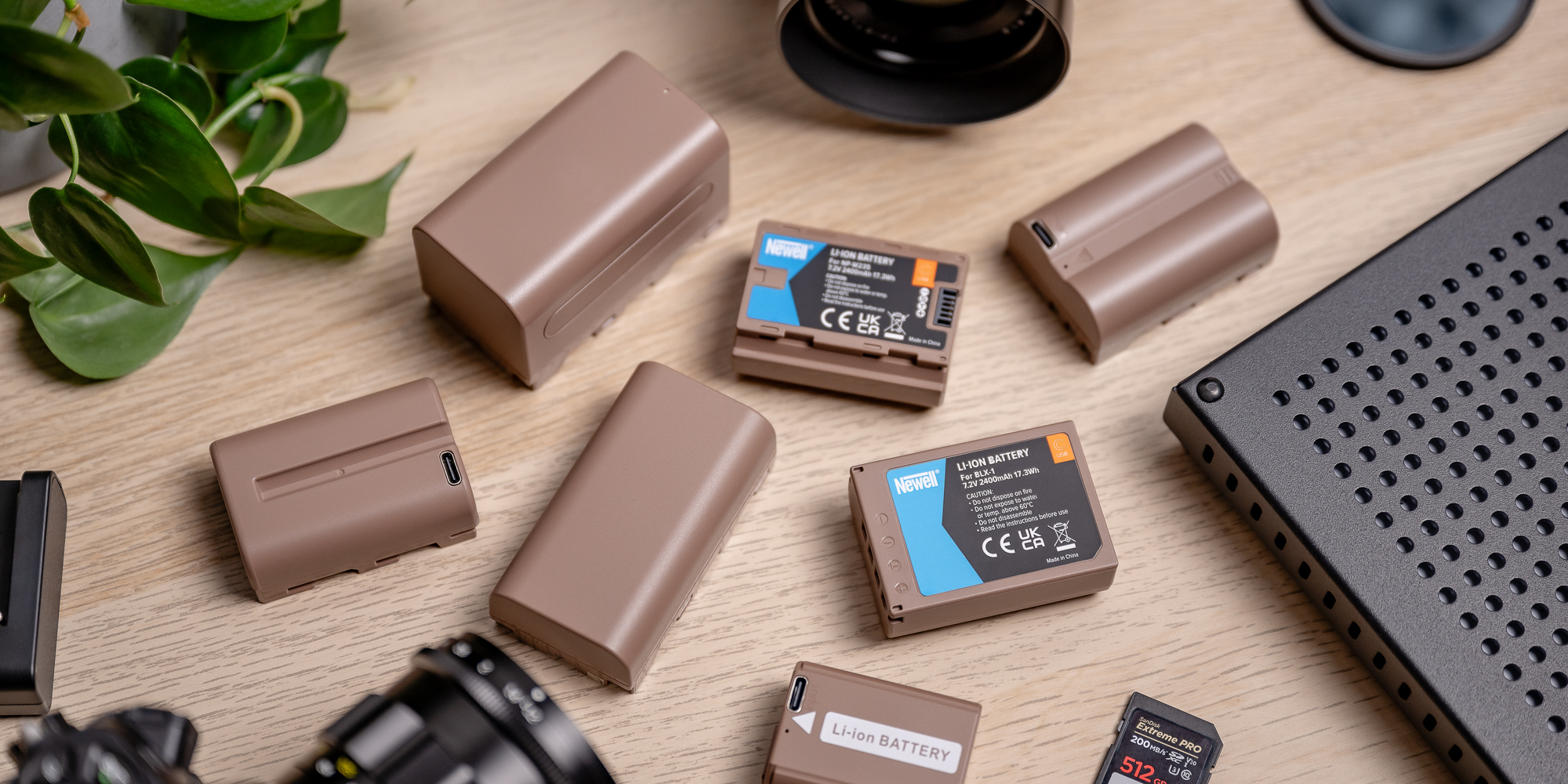 Newell USB-C: Compatible devices
We currently offer 3 models of replacement batteries with USB-C port: LP-E6NH (for Canon), NP-FZ100 (for Sony) and EN-EL115C (for Nikon). This is the full list of battery-compatible devices:
Newell battery replacement EN-EL15C USB-C for Nikon: D500, D600, D610, D750, D780, D800, D810, D850, D7000, D7100, D7200, D7500, Z5, Z6, Z7, Z6II, Z7II
Newell battery replacement NP-FZ100 USB-C for Sony: A7III, A7RIII, A7RIV, A9, A9II, A6600
Newell battery replacement LP-E6NH USB-C for Canon: EOS 5D Mark II, 5D Mark III, 5D Mark IV, 6D, 6D Mark II, 7D, 7D Mark II, 60D, 60Da, 70D, R, Ra, R5, R6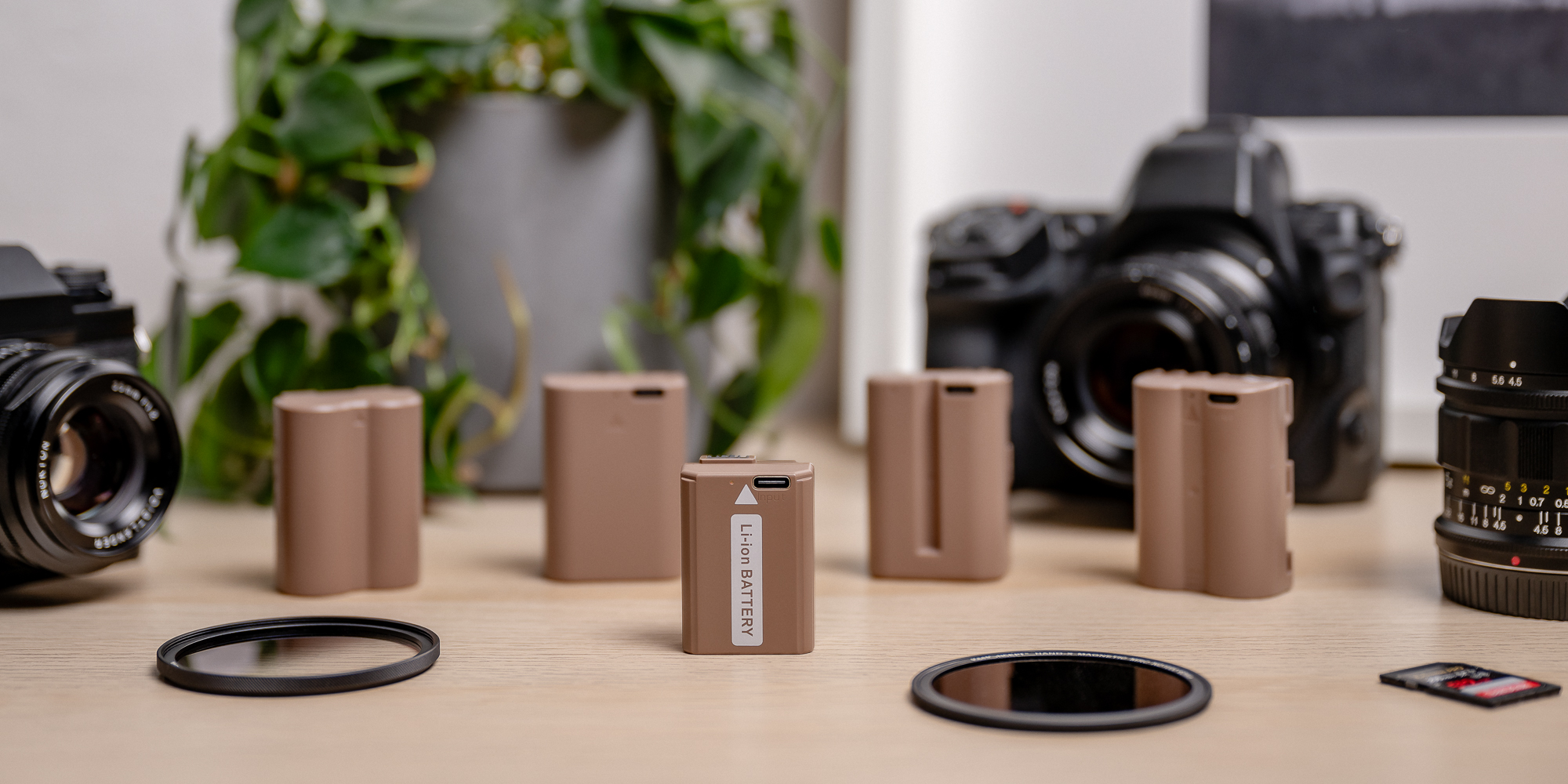 We hope that the above text will help you choose the right battery for your needs. If you need more information, be sure to read other guides and lists available on our blog:
If you have any questions or concerns, go ahead and email us or hook us up on Facebooku or Instagramie. Our people know batteries and rechargeable batteries like no one else and will be happy to help you choose the right cells.