Charging camera batteries have always been associated with the need to reach for an external charger. Photo-video manufacturers have accustomed us to having such a device included with newly purchased equipment. However, there are other ways to replenish batteries. We have an alternative solution if you forget to take a charger to a shooting set or don't have room for it in your backpack!

If you are recording or shooting at home, a charger is almost always at hand. Complications can begin when your camera accompanies you on a trip. People who record vlogs in the field or take vacation photos know full well that it's easy to forget something in the heat of preparing for a trip. While finding a way to charge a smartphone in a foreign place isn't too much of a challenge, things get a bit more complicated when it comes to batteries. The slogan "hey, do you have an iPhone charger" thrown around in some coffee shops usually solves the matter. However, when it comes to a charger for F770, E6NH, or EL3E batteries, you have to be lucky…
Can the camera battery be charged with a power bank?
How to charge camera batteries without a charger?
Is it possible to charge camera batteries via USB-C?
If you are looking for answers to these questions, we rush to help. Our latest series of batteries is a real game changer that will make you independent of chargers!
Batteries for cameras with USB-C port
For the sake of the forgetful and those for whom every millimeter of space in a backpack counts, we have created a special line of batteries equipped with USB-C ports. What does this mean? All you need is one cable connected to a power bank or smartphone charger to replenish the cell! You will recognize our battery replacements with USB-C by their distinctive housings in a unique cocoa color.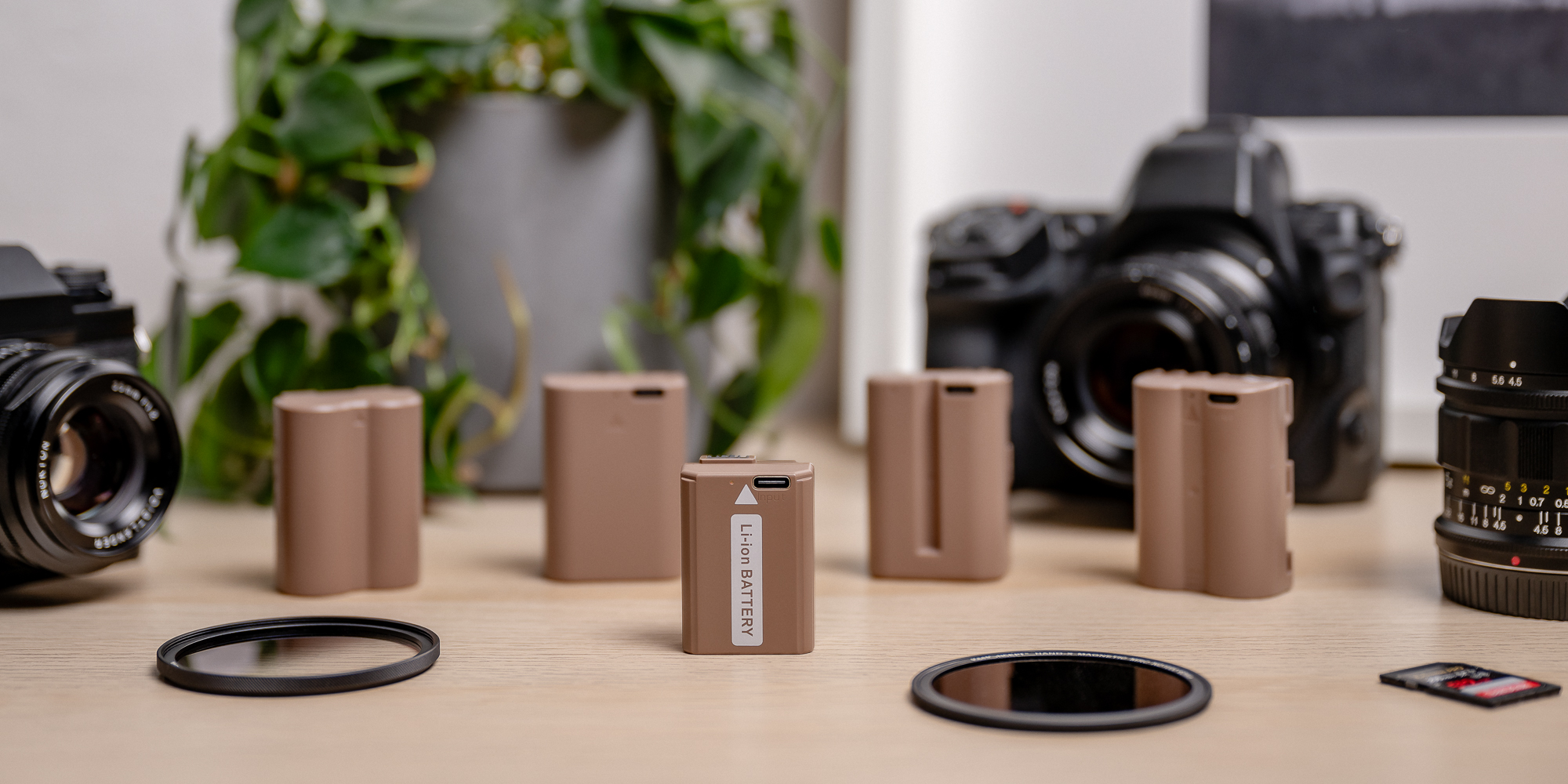 Camera batteries with USB-C – How does it work?
By choosing a USB-C series battery pack, you can finally forget about an external charger. Both intentionally and by accident. The cell is equipped with the popular USB-C port. All you need to do is connect the appropriate cable to it. This will be as simple as topping up your smartphone, tablet, or e-cigarette. Importantly, the charging time with the cable will be the same as with a traditional charger.
Of course, charging via a USB-C port is not the only way to replenish the cells. If there are situations where you still prefer to reach for a traditional charger, you can do so. Our USB-C battery replacements will be compatible with it!
What batteries can be charged via USB-C?
At the moment, we offer 9 battery replacements equipped with a USB-C port. They are compatible with dozens of popular cameras from brands such as Nikon, Sony, Canon, Olympus, and Fuji. Below you will find a list of models and supported devices:
Newell battery replacement EN-EL15C USB-C for Nikon (D500, D600, D610, D750, D780, D800, D810, D850, D7000, D7100, D7200, D7500, Z5, Z6, Z7, Z6II, Z7II)
Newell battery replacement NP-W235 USB-C for Fuji (Fujifilm GFX100A, X-T4, X-H2S)
Newell battery replacement EN-EL3E USB-C for Nikon (D50, D70, D80, D90, D100, D200, D300, D300s, D700)
Newell battery replacement NP-FZ100 USB-C for Sony (A7III, A7S III, A7R III, A7R IV, A7R V, A9, A9 II, A6600, A1, FX30, A7C)
Newell battery replacement LP-E6NH USB-C for Canon (EOS 5D Mark II, 5D Mark III, 5D Mark IV, 6D, 6D Mark II, 7D, 7D Mark II, 60D, 60Da, 70D, R, Ra, R5, R6)
Newell battery replacement NP-FM500H USB-C for Sony (A58, A65, A68, A77, A77 II, A99, A99 II, A100, A200, A300, A350, A450, A500, A550, A560, A580, A700, A850, A900, A77MII)
Newell battery replacement NP-F770 USB-C for Sony (full list of supported devices available on our website)
Newell battery replacement NP-F570 USB-C for Sony (full list of supported devices available on our website)
Newell battery replacement USB-C for Olympus OM System (OM-1)
USB-C batteries – charging under control
Traditional chargers inform you of the charging process through LEDs or messages displayed on the screen. By choosing USB-C replacements, you don't have to worry about the cells' energy replenishment being out of your control. A small LED will light up red when you start charging with the USB-C cable and turn green when the energy reaches its peak level. Our battery replacements are based on lithium-ion technology. This allows you to charge and discharge it multiple times. There is also nothing stopping you from recharging the battery at any time.
40-month warranty on USB-C batteries
The new series of USB-C battery replacements also comes with a 40-month warranty, which has already become our hallmark. In case of any complications, the help and support department will quickly solve your problem!
Do you have questions? Want to learn more about charging camera batteries without a charger? Feel free to contact us on Instagram or Facebook!